In 2014, the United States Mint launched a commemorative coin program to recognize and celebrate the 75th anniversary of the National Baseball Hall of Fame. The program was highly popular with collectors due to both its subject matter and the innovative features of the coins.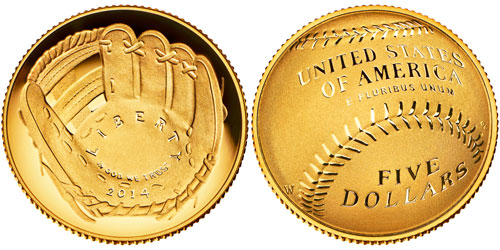 The 2014 Baseball Hall of Fame $5 Gold Coin (Buy on eBay) carried a concave obverse design depicting a baseball glove with the inscriptions "Liberty", "In God We Trust", and the date "2014". The convex reverse design of the coin featured a baseball similar to those used by Major League Baseball. The inscriptions read "United States of America", "E Pluribus Unum", and the nominal face value "Five Dollars".
The obverse was designed by Cassie McFarland, who was the winner of a design competition. Don Everhart was the engraver of the obverse, as well as the designer and engraver of the reverse.
The gold coins were struck in a composition of 90% gold and 10% alloy with a diameter of 0.85 inch, height of 0.141 inch, and weight of 8.359 grams. Proof and uncirculated versions of the coin were produced at the West Point Mint, with a maximum mintage of 50,000 pieces across both versions.
Sales for the 2014 Baseball $5 Gold Coins opened on March 27, 2014 with the proof and uncirculated versions available individually. The pricing was $419.75 for the uncirculated version and $424.75 for the proof version based on a weekly average market price of gold in the $1,300 to $1,349.99 range. An ordering limit of 50 coins per version per household was imposed.
Before the end of the opening day of sales, the United States Mint placed a "waiting list" notification on the coin's product page indicating that orders had already been received to account for the full 50,000 maximum authorized mintage.
Secondary market prices for the coins rose quickly following the one-day sell out and remain at heightened levels for this popular and innovate offering. The final mintages for the gold coins were reported as 32,427 proofs and 17,677 uncirculated coins.
Coin Specifications
Designer: Cassie McFarland (obverse), Don Everhart (reverse)
Weight: 8.359 g
Composition: 90% gold (0.242 ounces of gold)
Diameter: 21.59 mm
Maximum Authorized Mintage: 50,000
2014-W Uncirculated Baseball Hall of Fame $5 Gold Coin
Original Price: $419.75
Final Mintage: 17,677
2014-W Proof Baseball Hall of Fame $5 Gold Coin
Original Price: $424.75
Final Mintage: 32,427
Other 2014 Baseball Commemorative Coins