Over the course of two years, there were United States Mint commemorative coins issued under eight different programs. This continued the rapid expansion in the number of coins authorized by Congress and produced and issued by the US Mint.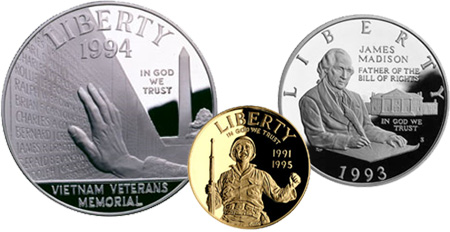 Programs recognized the 250th anniversary of the birth of Thomas Jefferson, the Bill of Rights, the World Cup Tournament, and the bicentennial of the U.S. Capitol. A $5 gold coin, silver dollar, and half dollar bearing the dates 1991-1995, but issued in 1993 commemorated the 50th anniversary of World War II. Finally, a trio of silver dollars with military themes were issued for Women in Military Service, the Vietnam Veterans Memorial, and the Prisoners of War Memorial.
As might be expected the rapid expansion in the number of coins issued per year, resulted in slower overall sales for each of the issues. Several of the coins issued during the period from 1993 to 1994 carry premiums due to the lower mintages.
Visit the pages below for further information on each of the 1993-1994 commemorative coin issues of the United States Mint.