The 2005 Chief Justice John Marshall Silver Dollar (Buy on eBay) was issued for the 250th anniversary of his birth. He served as the fourth Chief Justice of the United States from 1801 to 1835 and most notably established the doctrine of Judicial Review, asserting that the Supreme Court has the authority to overturn an Act of Congress if it exceeds the powers granted in the Constitution.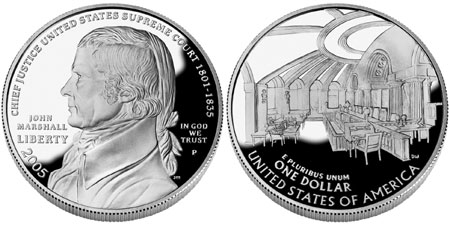 The silver dollar features a portrait of Chief Justice John Marshall on the obverse. This was designed by John Mercanti, based on an 1808 painting by Charles-Balthazar-Julien Fevret de Saint-Memin. The inscriptions include "Chief Justice United States Supreme Court 1801-1835", "John Marshall", "Liberty", "In God We Trust", and the date of issue "2005".
The reverse of the coin depicts the old Supreme Court Chamber within the Capitol with inscriptions "E Pluribus Unum", "One Dollar", and "United States of America". The reverse was designed by Donna Weaver.
The John Marshall Silver Dollar was minted in proof and uncirculated versions, both struck at the Philadelphia Mint. Individual coin sales began on April 25, 2005, with pre-issue prices in effect until June 27. A Chief Justice John Marshall Coin & Chronicles Set was later offered on July 18, priced at $59.95 and limited to 25,000 units. This set included the uncirculated version of the silver dollar, an intaglio print of a statue of the Chief Justice, and an information booklet.
Surcharges added to the cost of each commemorative coin were distributed to the Supreme Court Historical Society. Notably, the John Marshall Silver Dollar represented the first depiction of a Supreme Court Justice or the Supreme Court as an institution on a United States coin.
Coin Specifications
Designer: John Mercanti (obverse), Donna Weaver (reverse)
Weight: 26.7300 g
Composition: 90% Silver (0.7736 ounces of silver)
Diameter: 38.1 mm
Maximum Authorized Mintage: 400,000
2005-P Uncirculated John Marshall Silver Dollar
Pre-Issue Price: $33.00
Regular Price: $35.00
Final Mintage: 67,096
2005-P Proof John Marshall Silver Dollar
Pre-Issue Price:$35.00
Regular Price: $39.00
Final Mintage: 196,753