The 2007 Jamestown $5 Gold Coin (Buy on eBay) was issued to celebrate the 400th anniversary of the settlement of Jamestown, Virginia. In the spring of 1607 three ships carried English settlers to the New World where they would establish the first permanent English settlement in what would become the United States.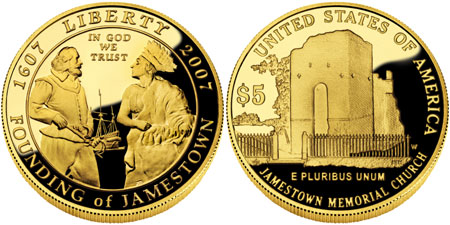 The obverse of the gold coin features Captain John Smith with the Native American chief Powhatan. The inscriptions read "Liberty", "1607", "2007", "Founding of Jamestown", and "In God We Trust". The obverse was designed by John Mercanti.
The reverse features the remains of the Jamestown Memorial Church, which is the only remaining structure in Jamestown. The inscriptions read "United State of America", the face value "$5", "E Pluribus Unum", and "Jamestown Memorial Church". The reverse was designed by Susan Gamble.
The United States Mint began sales of the Jamestown $5 Gold Commemorative Coins on January 7, 2007. The gold coins were produced at the West Point Mint and sold individually in proof or uncirculated versions. The maximum authorized mintage across all options was 100,000. Surcharges added to the cost of each coin and distributed to the Jamestown-Yorktown Foundation of the Commonwealth of Virginia, the Secretary of the Interior, and the Association for the Preservation of Virginia Antiquities.
Coin Specifications
Designer: John Mercanti (obverse), Susan Gamble (reverse)
Weight: 8.3590 g
Composition: 90% gold (0.242 ounces of gold)
Diameter: 21.6 mm
Maximum Authorized Mintage: 100,000
2007-W Uncirculated Jamestown $5 Gold Coin
Pre-Issue Price: $220.00
Regular Price: $245.00
Final Mintage: 18,623
2007-W Proof Jamestown $5 Gold Coin
Pre-Issue Price: $230.00
Regular Price: $255.00
Final Mintage: 47,123
Other 2007 Jamestown Commemorative Coins