The 2001 American Buffalo Silver Dollar (Buy on eBay) was issued to commemorate the recently opened National Museum of the American Indian (NMAI) of the Smithsonian Institution. The classic design of the coin after James Earle Fraser's Buffalo Nickel, made this commemorative coin issue immensely popular with collectors, leading to a prompt sell out.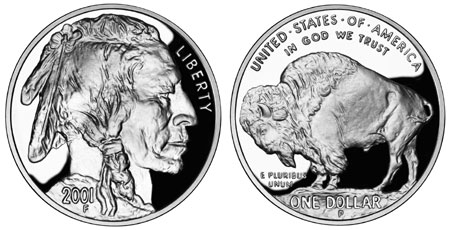 The obverse and reverse designs for the Buffalo Silver Dollar are taken from the 1913 Indian Head or Buffalo Nickel with some additional inscriptions added to the reverse. The obverse features the profile of a Native American facing right with the inscription "Liberty" in front and the date on the shoulder. The reverse features a full figure of the American Bison or Buffalo. The inscriptions read "United States of America", "In God We Trust", "E Pluribus Unum", and "One Dollar".
The United States Mint produced the uncirculated version of the coins at the Denver Mint and the proof version at the Philadelphia Mint. The coins were offered individually, as a two coin set, or included in the American Buffalo Coin and Currency Set. The coin and currency set was limited to 50,000 sets and included a replica of a Series 1899 $5 Silver Certificate and two postage stamps. The maximum production for across all products was 500,000.
The 2001 Buffalo Silver Dollar went on sale June 7, 2001 and sold out on June 21, 2001 making it one of the most popular modern commemorative coins. Prices for all versions remain high due to the continued collector demand for the issue.
A surcharge of $10 was added to the price of each coin to fund the opening of the NMAI and supplement the educational and outreach efforts of the museum. After the quick sell out, the NMAI sought the production of an additional 250,000 or 500,000 coins, but the Treasury Secretary denied the request.
Coin Specifications
Designer: James Earle Fraser
Weight: 26.7300 g
Composition: 90% Silver (0.7736 ounces of silver)
Diameter: 38.1 mm
Maximum Authorized Mintage: 500,000
2001-D Uncirculated American Buffalo Silver Dollar
Pre-Issue Price: $30.00
Regular Price: $32.00
Final Mintage: 227,131
2001-P Proof American Buffalo Silver Dollar
Pre-Issue Price:$33.00
Regular Price: $37.00
Final Mintage: 272,869