The 1989 Congress Bicentennial Silver Dollar (Buy on eBay) was one of three coins released to celebrate the 200th anniversary of Congress. The legislative body had first convened under the US Constitution in 1789 in Philadelphia. The three commemorative coins included a clad half dollar, silver dollar, and $5 gold coin.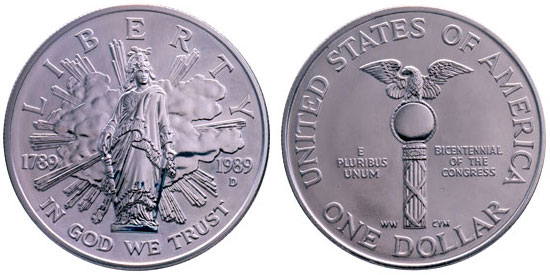 The obverse of the silver dollar features a full view of Thomas Crawford's bronze Statue of Freedom, which was placed atop of the Capitol dome in 1863. Clouds and rays of sunlight appear in the background of the view. The inscriptions read "Liberty", "In God We Trust", "1789", and "1989".
On the reverse of the coin is the mace of the House of Representatives. A close up view of the staff topped by an eagle on a world globe is pictured. The inscriptions include "United States of America", "One Dollar", "E Pluribus Unum", and "Bicentennial of the Congress". Both the obverse and reverse designs were modeled by Chester Young Martin and designed by William Woodward.
The 1989 Congress Silver Dollar was offered in proof version struck at the San Francisco Mint and in uncirculated version struck at the Denver Mint. The maximum authorized mintage across both options was 3 million coins. The silver dollars were sold individually or incorporated into different two and three coin sets and one six coin sets. A pre-issued discount price was available before regular pricing went into effect.

Coin Specifications
Designer: William Woodward
Weight: 26.7300 g
Composition: 90% Silver (0.7736 ounces of silver)
Diameter: 38.1 mm
Maximum Authorized Mintage: 10,000,000
1989-D Uncirculated Congress Silver Dollar
Pre-Issue Price: $23.00
Regular Price: $26.00
Final Mintage: 135,203
1989-S Proof Congress Silver Dollar
Pre-Issue Price: $25.00
Regular Price: $29.00
Final Mintage: 762,198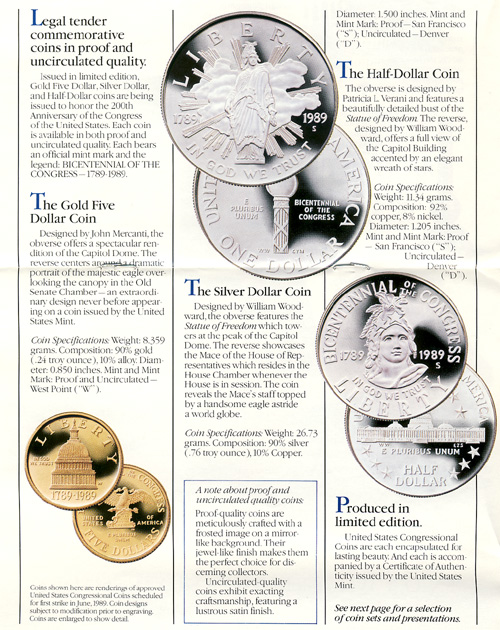 Other 1989 Congress Commemorative Coins
1989 Congress Bicentennial Half Dollar
1989 Congress Bicentennial $5 Gold Coin