The 2007 Little Rock Silver Dollar (Buy on eBay) was issued to commemorative the 50th anniversary of the desegregation of Little Rock Central High School, an important event in the American Civil Rights movement.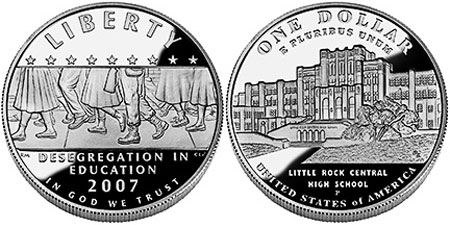 The obverse of the coin depicts the feet of the "Little Rock Nine" escorted by a soldier to enter the school. This group of nine black students entered the previously segregated facility following the landmark decision of Brown v. Board of Education. The inscription "Liberty" with nine stars appears above the image, and the inscriptions "Desegregation in Education", "2007", and "In God We Trust" appear below. The obverse was designed by Richard Masters and sculpted by Charles Vickers.
The reverse features Little Rock Central High School as it appeared in 1957. The building still operates as an educational institution and has been designated as a National Historic Site. The inscriptions read "One Dollar", "E Pluribus Unum", "Little Rock Central High School", and "United States of America". The reverse was designed and sculpted by Don Everhart.
The United States Mint began sales of the 2007 Little Rock Commemorative Silver Dollar on May 15, 2007. Both proof and uncirculated versions were produced at the Philadelphia Mint and limited to a maximum authorized mintage of 500,000 coins. The US Mint sold the coins individually or as part of two different sets. The first was the Little Rock Coin and Medal Set, which included the uncirculated version of the coin and a 1-1/2 inch bronze medal. The set was limited to 25,000 units and priced at $40. The second set was the 2007 American Legacy Collection, which included the proof version of the coin.
Surcharges added to the cost of each commemorative coin were paid to the Secretary of the Interior for improvements at the Little Rock Central High School National Historic Site.
Coin Specifications
Designer: Richard Masters (obverse), Don Everhart(reverse)
Weight: 26.7300 g
Composition: 90% Silver (0.7736 ounces of silver)
Diameter: 38.1 mm
Maximum Authorized Mintage: 500,000
2007-P Uncirculated Little Rock Silver Dollar
Pre-Issue Price: $33.00
Regular Price: $35.00
Final Mintage: 66,093
2007-P Proof Little Rock Silver Dollar
Pre-Issue Price:$35.00
Regular Price: $39.00
Final Mintage: 124,678