The 1991-1995 World War II Silver Dollar (Buy on eBay) was issued in 1993 to commemorate the 50th anniversary of America's involvement in World War II from 1941 to 1945. Surcharges from the sales of the three coins included in the program were used to construct the World War II monument and Washington DC and a D-Day monument planned for France, which was never constructed.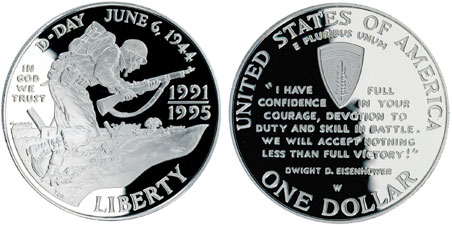 The obverse of the silver dollar features an American soldier on the shores of Normandy on June 6, 1944, known as D-Day. The reverse features a quote from Dwight D. Eisenhower with sleeve insignia from the Supreme Headquarters Allied Expeditionary Force. The obverse and reverse were both designed by Thomas D. Rodgers Sr.
The obverse inscriptions read "D-Day June 6, 1944", "In God We Trust", "Liberty", and the dual date "1991" and "1995". The reverse inscriptions include "United States of America", "E Pluribus Unum", the denomination "One Dollar" and the quote "I have full confidence in your courage, devotion to duty and skill in battle. We will accept nothing less than full victory!"
The 1993 World War II Silver Dollar had a maximum authorized mintage of 1,000,000 coins across both proof and uncirculated versions. Proof coins were struck at the West Point Mint and uncirculated coins were struck at the Denver Mint. The coins were sold individually, or as part of two-coin, three-coin, and six-coin sets, which included the other World War II commemorative coins.

Coin Specifications
Designer: Thomas D. Rodgers Sr.
Weight: 26.7300 g
Composition: 90% Silver (0.7736 ounces of silver)
Diameter: 38.1 mm
Maximum Authorized Mintage: 2,000,000
1991-1995 (1993-D) Uncirculated World War II Silver Dollar
Pre-Issue Price: $23.00
Regular Price: $28.00
Final Mintage: 107,240
1991-1995 (1993-W) Proof World War II Silver Dollar
Pre-Issue Price: $27.00
Regular Price: $31.00
Final Mintage: 342,041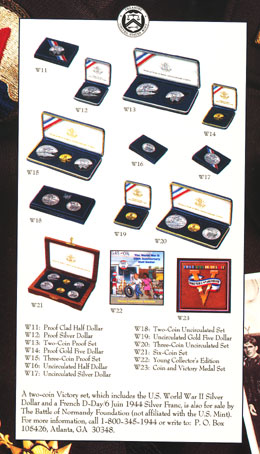 Other 1993 World War II Commemorative Coins