The 2011 U.S. Army Half Dollar (Buy on eBay) was one of three commemorative coins issued as part of a program to recognize and celebrate the founding of the United States Army. The coins of the program were intended to be emblematic of the traditions, history, and heritage of the Army, and its role in American society throughout history. Specifically, the clad composition half dollar represented "service in peace".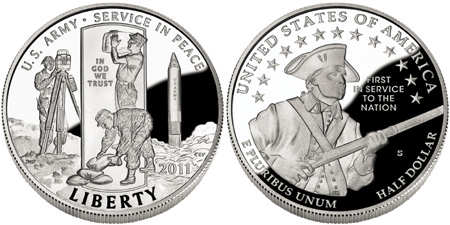 On the obverse is a split scene featuring a solider surveying, two servicemen building a flood wall, and the Redstone Army rocket used for space exploration. The storyboard fashion of this design was not viewed favorably when reviewed by the Citizens Coinage Advisory Committee and Commission of Fine Arts, but nonetheless it was selected by the Secretary of the Treasury. Inscriptions include "U.S. Army", "Service in Peace", "In God We Trust", "Liberty", and the date "2011".
The reverse design, which was praised by the CCAC, features a Continental solider armed with a musket. Thirteen stars appear above to represent the original states. Inscriptions include "United States of America", "First in Service to the Nation", "E Pluribus Unum", and the denomination "Half Dollar".
The 2011 Army Commemorative Half Dollars were issued in proof and uncirculated versions with a maximum authorized mintage of 750,000 coins. The US Mint facility at San Francisco struck the proof coins, while the facility at Denver struck the uncirculated coins. Sales were initially conducted under discounted introductory pricing, but after March 2, 2011, regular pricing went into effect.
After the coins were officially sold out at the Mint, many collectors and dealers took note of the particularly low mintage for the uncirculated version of the coin at 39,442 pieces. At the time, this represented the lowest mintage modern commemorative half dollar, which sent secondary market prices higher. The proof version of the coin had final sales of 68,332 pieces.

Coin Specifications
Designer: Donna Weaver (obverse), Thomas Cleveland (reverse)
Weight: 11.3400 g
Composition: 91.67% copper, 8.33% nickel
Diameter: 30.61 mm
Maximum Authorized Mintage: 750,000
2011-D Uncirculated Army Half Dollar
Pre-Issue Price: $15.95
Regular Price: $19.95
Final Mintage: 39,442
2011-S Proof Army Half Dollar
Pre-Issue Price: $17.95
Regular Price: $21.95
Final Mintage: 68,332
Other 2011 Army Commemorative Coins