The 1995 Olympic Basketball Half Dollar (Buy on eBay) was part of ambitious coin program issued for the XXVI Olympiad Summer Games held in Atlanta, Georgia. A total of 16 different coin designs were issued over the course of two years.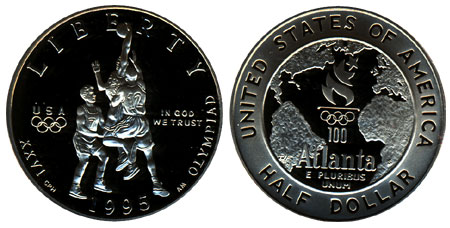 The obverse of the Basketball Half Dollar was designed by Clint Hansen and modeled by Alfred Maletsky. The inscriptions include "Liberty", "In God We Trust", "XXVI Olympiad", the date "1995" and the Olympics logo.
The reverse of the coin features the symbol for the Atlanta Committee for the Olympic Games in the center of a map. The inscriptions include "United States of America", "Half Dollar", "Atlanta", and "E Pluribus Unum." This reverse design was created by T. James Ferrell and used for all of both Olympic half dollar commemoratives issued in 1995.
The 1995 Olympic Basketball Half Dollar had a maximum authorized mintage of 2,000,000 coins and was issued in uncirculated and proof versions. Both versions were minted at the San Francisco Mint. The coins ultimately sold 171,001 uncirculated coins and 169,655 proof coins. They were offered by the US Mint individually or as part of several different multi-coin sets.
Coin Specifications
Designer: Clint Hansen (obverse), T. James Ferrell(reverse)
Weight: 11.3400 g
Composition: 91.67% copper, 8.33% nickel
Diameter: 30.61 mm
Maximum Authorized Mintage: 2,000,000
1995-S Uncirculated Basketball Half Dollar
Pre-Issue Price: $10.50
Regular Price: $11.50
Final Mintage: 171,001
1995-S Proof Basketball Half Dollar
Pre-Issue Price: $11.50
Regular Price: $12.50
Final Mintage: 169,655