The 1996 Paralympics Silver Dollar (Buy on eBay) was issued was part of an extensive program of commemorative coins for the XXVI Olympiad held in Atlanta, Georgia. There were a total of sixteen different coins issued for the program over the course of two years.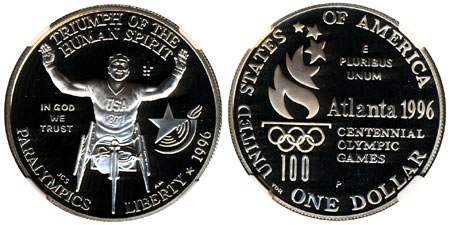 The obverse of the 1996 Paralympics Silver Dollar features an athlete in a wheelchair competing in a track and field event. The word "spirit" appears in Braille and the Paralympics logo is included. Additional inscriptions read "Triumph of the Human Spirit", "In God We Trust", "Paralympics", "Liberty", and "1996". The obverse of the coin was designed by James C. Sharpe.
The reverse of the coin features the Atlanta Committee for the Olympic Games logo with numerous inscriptions. The inscriptions read "United States of America", "One Dollar", "E Pluribus Unum", "Atlanta 1996", and "Centennial Olympic Games". Thomas D. Rogers designed the reverse, which was used in common for all four 1996 Olympic silver Dollars.
The 1995 Paralympics Silver Dollar had an authorized mintage of 1,000,000 to cover the uncirculated coins produced at the Denver Mint and proof coins produced at the Philadelphia Mint. Despite the high expectations, less than 100,000 coins were sold in total. This eventually worked in the favor of collectors who purchased the coins since the low mintages drove high premiums on the secondary market, particularly for the uncirculated version of the coin which had a scant mintage of only 14,497 coins.
Coin Specifications
Designer: James C. Sharpe (obverse), Thomas D. Rogers (reverse)
Weight: 26.7300 g
Composition: 90% Silver (0.7736 ounces of silver)
Diameter: 38.1 mm
Maximum Authorized Mintage: 1,000,000
1996-D Uncirculated Paralympics Silver Dollar
Pre-Issue Price: $27.95
Regular Price: $31.95
Final Mintage: 14,497
1996-P Proof Paralympics Silver Dollar
Pre-Issue Price: $30.95
Regular Price: $34.95
Final Mintage: 84,280