The American Veterans Disabled for Life Silver Dollar(Buy on eBay) was issued under one of the two commemorative coin programs authorized for the year 2010. The program honored members of the United States Armed Forces who made enormous personal sacrifices for their country.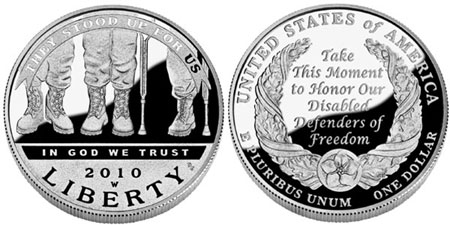 The obverse of the coin shows the legs and boots of three veterans with a pair of crutches. The inscriptions include "They Stood Up For Us", "In God We Trust", "Liberty" and the date of issue "2010". The obverse was designed and sculpted by Don Everhart.
The reverse design features a forget-me-not flower at the base of a wreath, wrapped in ribbons with clusters of oak branches. The forget-me-not is widely recognized as a symbol for those who fought and became disabled in World War I. A central inscription reads "Take This Moment to Honor Our Disabled Defenders of Freedom." Additional inscriptions read "United States of America", "E Pluribus Unum", and the denomination "One Dollar". The reverse was designed by Thomas Cleveland and sculpted by Joseph Menna.
The 2010 Disabled Veterans Silver Dollars were be produced in proof and uncirculated versions at the West Point Mint. Under the authorizing legislation, the maximum mintage across both version was 350,000 coins. Coins were offered for sale by the US Mint individually, with no special set offerings created. Introductory pricing was in effect from the release date of February 25, 2010 through March 29, 2010, after which date regular pricing went into effect.
A surcharge added to the cost of each coin was to be distributed to the Disabled Veterans' LIFE Memorial Foundation to establish an endowment for the construction of a memorial in Washington, DC.
Coin Specifications
Designer: Don Everhart (obverse), Thomas Cleveland (reverse)
Weight: 26.7300 g
Composition: 90% Silver (0.7736 ounces of silver)
Diameter: 38.1 mm
Maximum Authorized Mintage: 350,000
2010-W Uncirculated American Veterans Disabled for Life Silver Dollar
Pre-Issue Price: $33.95
Regular Price: $35.95
Final Mintage: 78,301
2010-W Proof American Veterans Disabled for Life Silver Dollar
Pre-Issue Price: $39.95
Regular Price: $43.95
Final Mintage: 202,770