On March 8 the copper-nickel or clad half dollar in the 2018 Breast Cancer Awareness commemorative coin program was launched along with the silver dollar and $5 gold coin. From then until April 16, it was priced at $25.95 for the uncirculated version and $27.95 for the Proof example. After that the price of each coin increased by $5.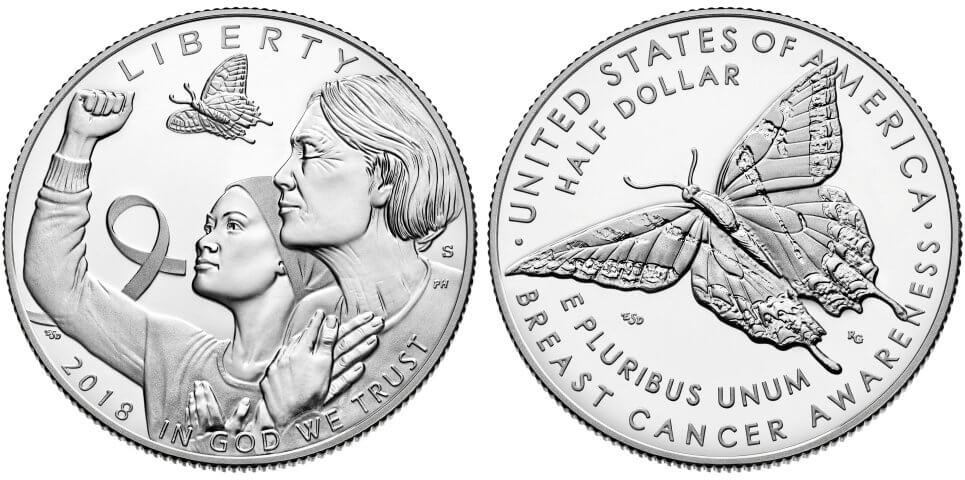 Each coin included a $5 surcharge that if all costs to make and market the coins was recouped by the Mint would be paid to the Breast Cancer Research Foundation to promote further research into this important field that is helping to save women's lives.
The maximum authorized mintage for all clad half dollars across both product options is 750,000.
That included a maximum of 25,000 sold as part of a special Breast Cancer Awareness coin and stamp set with a Proof half dollar and a special USPS stamp issued previously to help raise funds for breast cancer research.
Actual sales were not nearly that high, reaching a total of 11,301 for the uncirculated coin (Buy on eBay) and 22,293 for the Proof coins (Buy on eBay), including 4,455 sold as part of the coin and stamp set.
Coin Specifications
Designer: Emily Damstra
Weight: 11.34 grams
Composition: 91.67% copper, 8.33% nickel
Diameter: 30.61 mm
Maximum authorized mintage: 750,000
2017-D Uncirculated Breast Cancer Awareness Half Dollar
Original price: $27.95
Final mintage: 11,301
2017-S Proof Breast Cancer Awareness Half Dollar
Original price: $25.95
Final mintage: 22,392*
*Includes 4,455 sold in the 2018 Breast cancer Awareness coin and stamp set