The 1994 World Cup Silver Dollar (Buy on eBay) was issued as part of a three coin program to celebrate the XV FIFA World Cup playoff. The final game was held in the Rose Bowl in Pasadena, California. The commemorative coin program was expected to be popular, particularly with foreign buyers.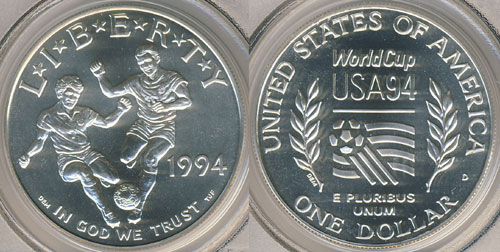 The obverse of the coin features two soccer players running towards a soccer ball in play. This was designed by Dean McMullen and modeled by US Mint engraver T. James Farrell. The reverse design featuring the 1994 World Cup logo adapted by Dean McMullen was used as the reverse design across all three coins of the program. This represented the first time the United States Mint had used a common design across commemorative coins of different denominations.
Inscriptions on the obverse of the coin include "Liberty" with each letter separated by a star, "In God We Trust", and the date "1994". The reverse includes "United States of America", "E Pluribus Unum", the denomination "One Dollar", and incorporated into the logo "World Cup USA 94".
The 1994 World Cup Silver Dollar carried an extremely high maximum authorized mintage of 5 million coins. In recent prior years, commemorative dollar coins had much smaller maximum mintages. The coins were produced with a proof or uncirculated finish, with proof coins minted at San Francisco and uncirculated coins minted at Denver. The dollar coins were sold individually, as part of five different multi coin sets, and within a special edition set.
Coin Specifications
Designer: Dean McMullen
Weight: 26.7300 g
Composition: 90% Silver (0.7736 ounces of silver)
Diameter: 38.1 mm
Maximum Authorized Mintage: 5,000,000
1994-D Uncirculated World Cup Silver Dollar
Pre-Issue Price: $23.00
Regular Price: $28.00
Final Mintage: 81,524
1994-S Proof World Cup Silver Dollar
Pre-Issue Price: $27.00
Regular Price: $31.00
Final Mintage: 577,090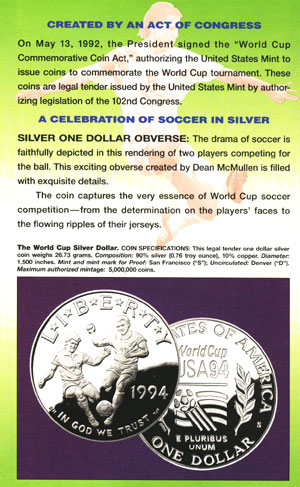 Other 1994 World Cup Commemorative Coins