The 1987 Constitution Silver Dollar (Buy on eBay) was issued to celebrate the 200th anniversary of the United States Constitution, which had been adopted on September 17, 1787. The commemorative coin program included a silver dollar and $5 gold coin.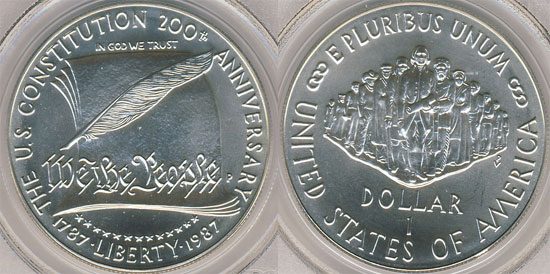 The obverse design of the silver dollar depicted sheets of parchment and a quill pen. The first three words of the U.S. Constitution "We the People" are featured centrally. Inscriptions around the outer edge of the coin include "The U.S. Constitution 200th Anniversary", "Liberty", and the dates "1787" and "1987". Above the parchment are the words "In God We Trust" with an arrangement of thirteen stars below.
On the reverse of the coin are 13 diverse people intended to represent the wide cultural and social spectrum of the United States. The inscriptions around the edge include "E Pluribus Unum" and "United States of America". The denomination is expressed curiously as "Dollar 1". Both the obverse and reverse were designed by Patricia Lewis Verani.
The Constitution Silver Dollar had a maximum authorized mintage of 10 million coins, across proof and uncirculated versions. The proof coins were minted at the San Francisco Mint and the uncirculated coins were minted at the Philadelphia Mint. The silver dollars were offered individually, or as part of a two coin or four coin set. Across all options and versions, sales exceeded 3 million coins, falling short of the maximum but well above the sales levels for later modern commemoratives.
Coin Specifications
Designer: Patricia Lewis Verani
Weight: 26.7300 g
Composition: 90% Silver (0.7736 ounces of silver)
Diameter: 38.1 mm
Maximum Authorized Mintage: 10,000,000
1987-P Uncirculated Constitution Silver Dollar
Pre-Issue Price: $22.50
Regular Price: $26.00
Final Mintage: 451,629
1987-S Proof Constitution Silver Dollar
Pre-Issue Price: $24.00
Regular Price: $28.00
Final Mintage: 2,747,116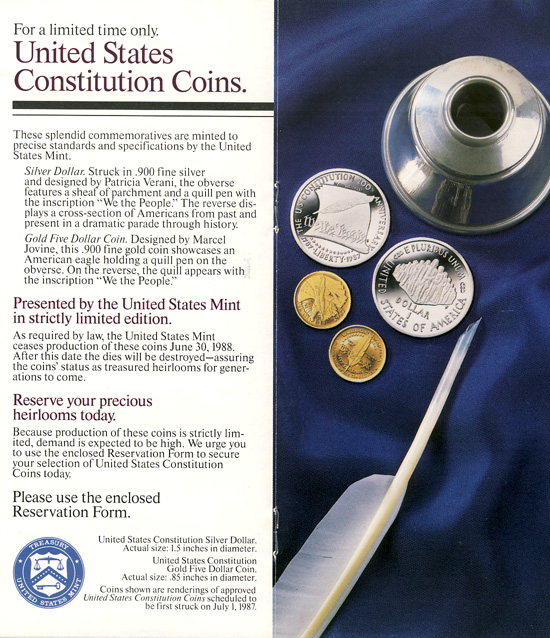 Other 1987 Constitution Commemorative Coins
1987 Constitution $5 Gold Coin