The 1994 Prisoner of War Silver Dollar (Buy on eBay) was one of three similarly themed commemorative silver dollars released by the United States Mint during the year. The other programs were issued for the Women in Military Service Memorial and Vietnam Veterans Memorial. This coin was issued for the Prisoner of War Memorial Museum to be built in Andersonville, Georgia.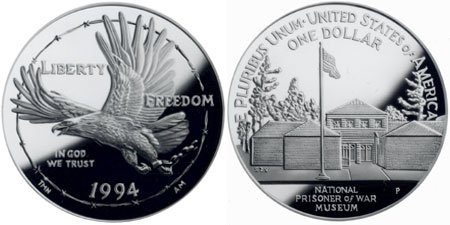 The obverse of the coin depicts a bald eagle in flight. There is a broken chain on one leg and barbed wire encircling the design. This was representative of the eagle's flight towards freedom. The obverse was designed by Tom Nielson. The reverse of the coin depicts the plan view of the proposed Prisoner of War Museum, as rendered by Edgar Z. Steever.
The obverse inscriptions include "Liberty", "Freedom", "In God We Trust", and the date "1994". The reverse inscriptions include "E Pluribus Unum", "United States of America", the denomination "One Dollar" and "National Prisoner of War Museum" beneath the plan of the museum.
The 1994 U.S. Prisoner of War Memorial Silver Dollars were minted in proof version at the Philadelphia Mint and uncirculated version at the West Point Mint. The coins were offered for sale individually or as included within three-coin proof or uncirculated sets which contained the three "Memorial" themed commemorative coins. The coins had a relatively low mintage due to low interest during the initial offering period. As a result, these coins now carry a premium, particularly for the lower mintage uncirculated version.
Coin Specifications
Designer: Tom Nielson (obverse), Edgar Z. Steever (reverse)
Weight: 26.7300 g
Composition: 90% Silver (0.7736 ounces of silver)
Diameter: 38.1 mm
Maximum Authorized Mintage: 500,000
1994-W Uncirculated U.S. Prisoner of War Memorial Silver Dollar
Pre-Issue Price: $27.00
Regular Price: $32.00
Final Mintage: 54,893
1994-P Proof U.S. Prisoner of War Memorial Silver Dollar
Pre-Issue Price: $31.00
Regular Price: $35.00
Final Mintage: 224,449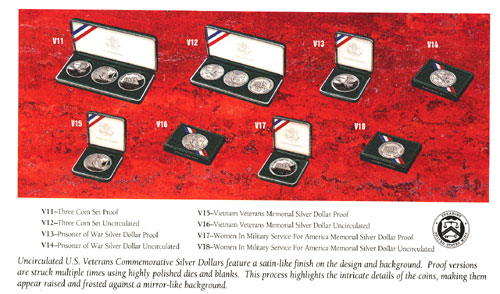 Other 1994 Veterans Commemorative Coins
1994 Vietnam Veterans Memorial Silver Dollar
1994 Women in Military Service Silver Dollar