The 2003 First Flight Silver Dollar (Buy on eBay) was issued along with a $10 gold and clad half dollar to celebrate the centennial of the first powered, manned flight. This was the only commemorative coin program for the year.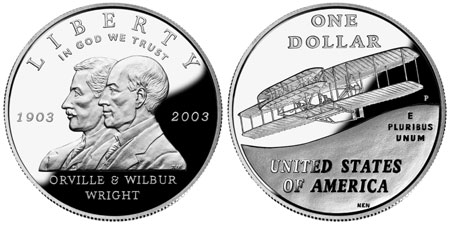 The obverse of the silver dollar features a portrait of Orville and Wilbur Wright facing left. The similarly designed gold coin features their portraits facing front. The inscriptions on the coin include "Liberty", "In God We Trust", "1903", "2003", and "Orville & Wilbur Wright". The design is by T. James Ferrell.
The reverse features the Wright 1903 Flyer, in flight above the dunes at Kill Devil Hill. Above the Flyer is the inscription "One Dollar", with "United States of America" and "E Pluribus Unum" appearing on the dunes below. The reverse was designed by Norman E. Nemeth.
The First Flight Silver Dollars were produced at the Philadelphia Mint in proof and uncirculated versions. The coins were initially priced at a pre-issue discount price, and later available at regular pricing. A surcharge added to the cost of each silver dollar was payable to the First Flight Centennial Foundation. The silver dollars eventually sold about half of the maximum authorized mintage of 500,000 coins.
Coin Specifications
Designer: T. James Ferrell (obverse), Norman E. Nemeth (reverse)
Weight: 26.7300 g
Composition: 90% Silver (0.7736 ounces of silver)
Diameter: 38.1 mm
Maximum Authorized Mintage: 500,000
2003-P Uncirculated First Flight Silver Dollar
Pre-Issue Price: $31.00
Regular Price: $33.00
Final Mintage: 53,533
2003-P Proof First Flight Silver Dollar
Pre-Issue Price:$33.00
Regular Price: $37.00
Final Mintage: 190,240