The obverse design of this coin shows an older brother holding his younger brother's hand in 1917. They are shown walking toward Father Flanagan's Boys Home and the 1940s Pylon, which represents what would become Boys Town. This side was designed by Medallic Artist Renata Gordon and sculpted by Artistic Infusion Program artist Chris Costello.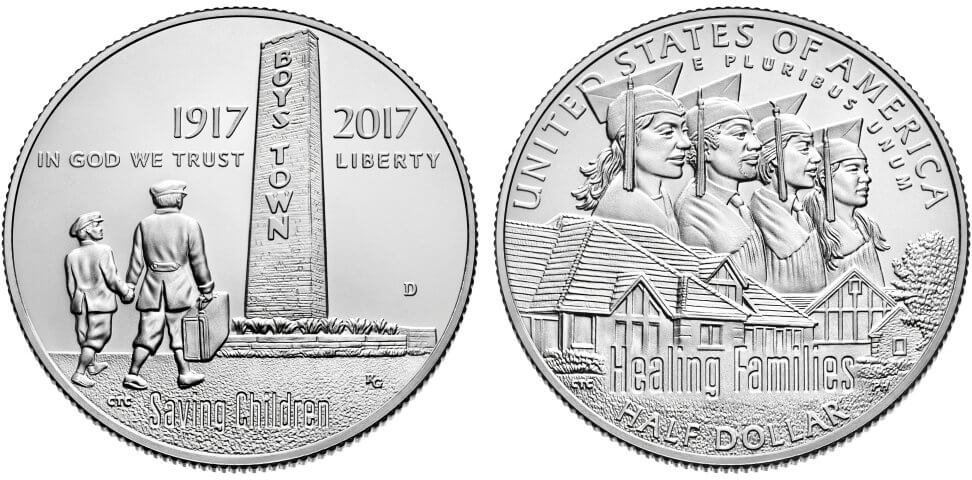 The reverse features a present-day Boys Town neighborhood where children are taught and nurtured by caring families. These homes are the support network for the young adults who later graduate from high school and the Boys Town program. This side was designed by Medallic Artist Phebe Hemphill and sculpted by Chris Costello.
Each half dollar included a $5 surcharge that once costs were first recouped would go to Boys Town.
When sales opened the uncirculated piece (Buy on eBay) was priced at $20.95 and the Proof (Buy on eBay) at $21.95. After April 10 prices were $25.95 and $26.95 respectively.
Final sales were 15,525 for the mint state coins and 17,639 for the Proof plus another 5,525 of the Proofs in the 3-coin set.
Coin Specifications
Designer: Renata Gordon (obverse), Phebe Hemphill (reverse)
Weight: 11.34 grams
Composition: 91.67% copper, 8.33% nickel
Diameter: 30.61 mm
Maximum authorized mintage: 300,000
2017-S Uncirculated Boys Town Half Dollar
Original price: $20.95
Final mintage: 15,525
2017-D Proof Boys Town Half Dollar
Original price: $21.95
Final mintage: 17,639