The 1996 Olympic Tennis Silver Dollar (Buy on eBay) was issued in commemoration of the XXVI Olympiad in Atlanta, Georgia. It was part of an extensive program, which included a total of sixteen different coins struck in clad, silver, and gold, and released over the course of two years.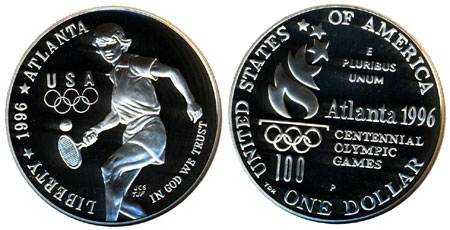 The obverse of the Tennis Silver Dollar features a woman playing tennis about to hit the ball. The inscriptions read "Liberty", "1996", "Atlanta", and "In God We Trust" with the USA Olympic logo. This was designed by James C. Sharpe and modeled by Thomas D. Rogers.
The reverse of the coin features a modernistic Olympic torch. The base of the torch is created with the number "100" representing the centennial and the Olympic logo. The inscriptions read "United States of America", "One Dollar", "E Pluribus Unum", "Atlanta 1996", and "Centennial Olympic Games". This was designed by Thomas D. Rogers.
The 1996 Tennis Silver Dollar was produced in uncirculated version at the Denver Mint and proof version at the Philadelphia Mint. The overall mintage was limited to 1,000,000 coins, which was an increase from the level set for the prior year's Olympic Silver Dollars. Less coins were actually sold with the final tally narrowly exceeding 100,000. The low mintages for this coin now drive significant premiums, particularly for the uncirculated version.
Coin Specifications
Designer: James C. Sharpe (obverse), Thomas D. Rogers (reverse)
Weight: 26.7300 g
Composition: 90% Silver (0.7736 ounces of silver)
Diameter: 38.1 mm
Maximum Authorized Mintage: 1,000,000
1996-D Uncirculated Tennis Silver Dollar
Pre-Issue Price: $27.95
Regular Price: $31.95
Final Mintage: 15,983
1996-P Proof Tennis Silver Dollar
Pre-Issue Price: $30.95
Regular Price: $34.95
Final Mintage: 92,016