For the third time in the Mint's history, curved $5 gold coins were issued for the 2019 Basketball Hall of Fame commemorative coin program.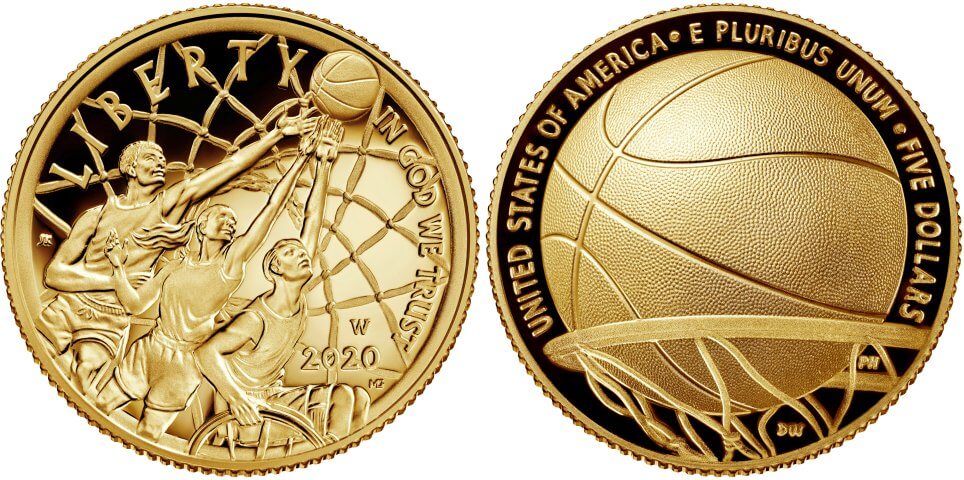 These coins went on sales on June 4, 2019 along with the silver dollars and clad half dollars, which all featured the same obverse showing three players in action and a reverse with a basketball about to go through the net.
They were priced according to the Mint's pricing grid that varies by week depending on whether the average price of gold went up or down by at least $50. In addition, from July 6 the price of each coin increased by $5 as the introductory period was over.
The initial prices were $634.50 and $644.50, and when the introductory period ended, they were $646.75 and $656.75.
Sales for the first three days were 2,519 for the uncirculated coin (Buy on eBay) and 5,750 for the Proof version (Buy on eBay). As it usually the case the Proof was much more popular and outsold the mint state piece almost three to one with final sales of 8.075 compared to 3,263 for the uncirculated coin.
Each coin included a $35 surcharge that went to the Naismith Basketball Hall of Fame to help funds its programs and educational programming.
Coin Specifications
Designer: Justin Kunz (obverse), Donna Weaver (reverse)
Weight: 8.3590 grams
Composition: 90% gold, 10% copper
Diameter: 21.6 mm (.850 inches)
Maximum mintage: 50,000
2019-W Basketball Hall of Fame $5 Gold coin:
Original price: varied
Final mintage: 3,263
2019-W Basketball Hall of Fame $5 Gold coin:
Original price: varied
Final mintage: 8,075