The 2001 Capitol Visitor $5 Gold Coin (Buy on eBay) was issued along with a silver dollar and clad half dollar for the proposed Visitor Center to the U.S. Capitol. The coins of the program had relatively slow sales, with the lowest mintage occurring for the uncirculated version of the gold coin.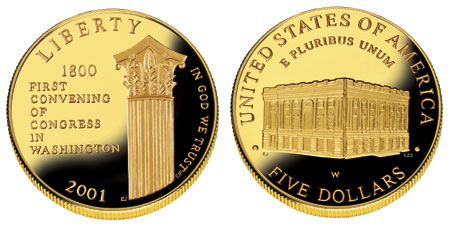 The obverse of the Capitol Visitor Center $5 Gold depicts the top of a Corinthian column. Inscriptions read "Liberty", "1800", "First Convening of Congress in Washington", "In God We Trust", and the date. The reverse features a view of he 1800 Capitol with inscriptions "United States of America", "E Pluribus Unum", and the denomination "Five Dollars". Both the obverse and reverse were designed by Elizabeth Jones, former Chief Engraver at the United States Mint.
The coins were produced in proof and uncirculated versions at the West Point Mint. The coins were offered individually or as part of a three coin proof set. The maximum mintage across all options was set at 1000,000. This year the US Mint experimented with issuing coins in standard packaging or in plain mailers at a slightly reduced cost. This practice was not repeated in future programs.
The uncirculated 2001 Capitol Visitor Center Gold Coin had a low mintage of just 6,761 coins. After the coins went off sale, premiums quickly developed for this issue based on the low mintage.
Coin Specifications
Designer: Elizabeth Jones
Weight: 8.3590 g
Composition: 90% gold (0.242 ounces of gold)
Diameter: 21.6 mm
Maximum Authorized Mintage: 100,000
2001-W Uncirculated Capitol Visitor Center $5 Gold Coin
Pre-Issue Price: $180.00 ($175.00 in mailer)
Regular Price: $205.00 ($200.00 in mailer)
Final Mintage: 6,761
2001-W Proof Capitol Visitor Center $5 Gold Coin
Pre-Issue Price: $195.00 ($177.00 in mailer)
Regular Price: $225.00 ($207.00 in mailer)
Final Mintage: 27,652