The commemorative coins issued by the United States Mint from 2010 to 2013 would witness a pattern of declining sales volumes. A contributing factor may have been higher precious metals prices, which made the coins more expensive and potentially priced some collectors out of the market. The lower sales resulted in some of the lowest mintage levels in more than a decade.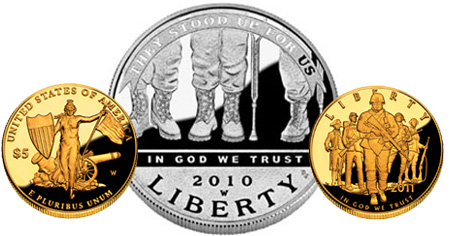 The period began with programs honoring American Veterans Disabled for Life and celebrating the centennial of the Boy Scouts of America. Both of these programs performed relatively well, with the Boy Scouts coins selling out of the 350,000 maximum authorized mintage.
The following year, silver dollars and $5 gold coins were issued for the United States Army and the Medal of Honor. In addition to a larger number of different coins offered, price levels for the coins were higher due to the increased market price of gold and silver. These factors seemed to combine to put a damper on sales resulting in historically low mintages for the issues.
Remaining programs during the period honored Infantry soldiers, the Star Spangled Banner, the Girl Scouts of America, and the 5-Star Generals of the United States Army. Sales levels for the $5 gold coins continued to decline, culminating with the 5-Star Generals uncirculated coin which had sales of just 5,658 pieces.
Visit the pages below for additional information on the United States Mint's 2010-2013 commemorative coins.