The 2002 West Point Silver Dollar (Buy on eBay) was issued to commemorate the 200th anniversary of the founding of the United States Military Academy. It had originally been authorized by President Thomas Jefferson on March 16, 1802.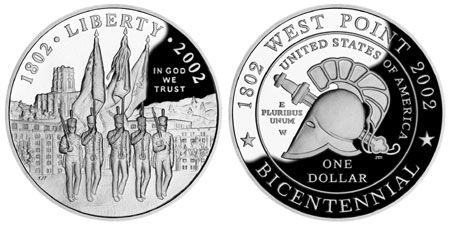 The obverse of the silver dollar features the Academy Color Guard in parade. The Cadet Chapel and Washington Hall are visible in the background of the scene. Inscriptions above include "1802 Liberty 2002" and "In God We Trust". The obverse was designed by T. James Ferrell.
The reverse features the West Point Bicentennial logo, consisting of a helmet and sword. Inscriptions in an outer circle read "1802 West Point 2002" and "Bicentennial". Inscriptions within the central area include "United States of America", "E Pluribus Unum", and "One Dollar". The reverse was prepared by John Mercanti after models provided to him.
The West Point Silver Dollars were fittingly produced at the US Mint facility located in West Point, New York. Proof and uncirculated versions were produced and offered for sale individually. The maximum authorized mintage of 500,000 was nearly reached with combined sales of nearly 400,000 coins. The design and subject matter proved popular with collectors and individuals appreciative of the subject matter of the coin.
Coin Specifications
Designer: T. James Ferrell (obverse), John Mercanti (reverse)
Weight: 26.7300 g
Composition: 90% Silver (0.7736 ounces of silver)
Diameter: 38.1 mm
Maximum Authorized Mintage: 500,000
2002-W Uncirculated West Point Silver Dollar
Pre-Issue Price: $30.00
Regular Price: $32.00
Final Mintage: 103,201
2002-W Proof West Point Silver Dollar
Pre-Issue Price:$33.00
Regular Price: $37.00
Final Mintage: 288,293