As part of a commemorative program which included three coins, the 2008 Bald Eagle Silver Dollar (Buy on eBay) was issued to mark the recovery of the species and the 35th anniversary of the Endangered Species Act. The other coins in the program were a $5 gold coin and copper-nickel clad half dollar.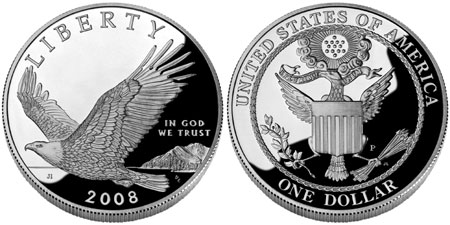 The silver dollar obverse features an image of a mature Bald Eagle in flight. This was designed by Joel Iskowitz and sculpted by Don Everhart. The inscriptions include "Liberty", "In God We Trust", and the date "2008". The reverse of the coin features the Great Seal of the United States in use from 1782 to 1841, as sculpted by Jim Licaretz. The inscriptions include "United States of America" above, "One Dollar" below, and the motto "E Pluribus Unum" on a ribbon in the eagle's beak.
The Bald Eagle Silver Dollar was minted at Philadelphia in proof and uncirculated versions. The coins were sold individually or within several specially issued sets. A proof version of the silver dollar was included in the Bald Eagle Commemorative 3 Coin Proof Set, which also included proof versions of the $5 gold and half dollar coins. An uncirculated version of the silver dollar was included in the Coin and Medal Set, which contained a bronze medal from the National Wildlife Refuge System Centennial Medal series. Later in the year, the proof silver dollar was also included in the 2008 American Legacy Collection.
The Bald Eagle Commemorative Coins all went on sale at the United States Mint on January 15, 2008. Introductory pricing was available through February 14, 2008. Sales officially ended on December 12, 2008.
Coin Specifications
Designer: Joel Iskowitz (obverse), Jim Licaretz (reverse)
Weight: 26.7300 g
Composition: 90% Silver (0.7736 ounces of silver)
Diameter: 38.1 mm
Maximum Authorized Mintage: 500,000
2008-P Uncirculated Bald Eagle Silver Dollar
Pre-Issue Price: $35.95
Regular Price: $37.95
Final Mintage: 119,204
2008-P Proof Bald Eagle Silver Dollar
Pre-Issue Price:$39.95
Regular Price: $43.95
Final Mintage: 294,601
Other 2008 Bald Eagle Commemorative Coins