After a gap of nearly three decades, the United States Mint resumed the production and issuance of commemorative coins. The first issue would mark the bicentennial of the first President of the United States George Washington on a silver half dollar.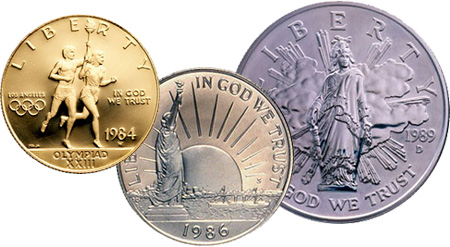 For subsequent programs, other denominations would be used including $5 gold coins, $10 gold coins, silver dollars, and clad composition half dollars. Each of these coins would carry the classic specifications for the corresponding denomination.
Other programs throughout the period of 1982-1989 would celebrate or recognize the Olympics, the Statue of Liberty, Constitution, and the Bicentennial of Congress. During this era, excitement for the commemorative coins was high, leading to rather large mintages. Most of these coins are readily available for present day collectors, with the prices determined to a large extent by precious metals prices.
Visit the pages below for more information about each of the commemorative coins issued from 1982 to 1989.