The 1995 Olympic Stadium $5 Gold Coin (Buy on eBay) was issued as one of two $5 commemorative gold coins released in 1995 for the XXVI Olympiad held in Atlanta, Georgia. These coins were part of an even more expansive program which included a total of sixteen coins released during the years 1995 and 1996.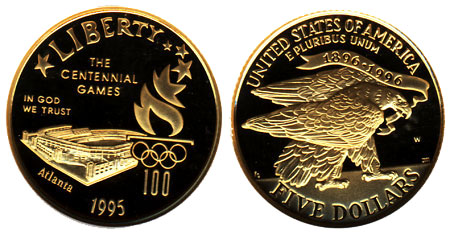 The obverse of the Olympic Stadium $5 Gold Coin features the design of the Olympic Stadium used for the 1996 Olympic Games, along with the logo. The inscriptions include "Liberty", "The Centennial Games", "In God We Trust", "Atlanta", and the date "1995". The design was created by Marcel Jovine.
The reverse of the coin features a bald eagle with a banner in its beak. The banner carries the centennial dates "1896-1996". Additional inscriptions include "United States of America", "E Pluribus Unum", and the denomination "Five Dollars". The reverse was designed by Frank Gasparro and was used for both of the $5 gold Olympic commemorative coins.
The 1995 Olympic Stadium $5 Gold was released in both proof and uncirculated versions. Both were produced at the West Point Mint and bear the "W" mint mark. The combined maximum authorized mintage across both versions was 175,000. The final sales for the coins fell far short of this, however the resulting low mintage made the coins a secondary market winner. The uncirculated version with a mintage of only 10,579 pieces can fetch prices approaching $1,000.

Coin Specifications
Designer: Marcel Jovine (obverse) John Mercanti (reverse)
Weight: 8.3590 g
Composition: 90% gold (0.242 ounces of gold)
Diameter: 21.6 mm
Maximum Authorized Mintage: 175,000
1995-W Uncirculated Olympic Stadium $5 Gold Coin
Pre-Issue Price: $229.00
Regular Price: $249.00
Final Mintage: 10,579
1995-W Proof Olympic Stadium $5 Gold Coin
Pre-Issue Price: $239.00
Regular Price: $259.00
Final Mintage: 43,124