The 2009 Abraham Lincoln Silver Dollar (Buy on eBay) was issued to commemorate the 200th anniversary of the birth of the 16th President of the United States. During the year, the United States Mint also would also issue a series of four different reverse designs for the 2009 Lincoln Cents, which represented different stages of Lincoln's life. As part of the commemorative coin program, a special product was created which incorporated both the silver dollar and newly designed cents.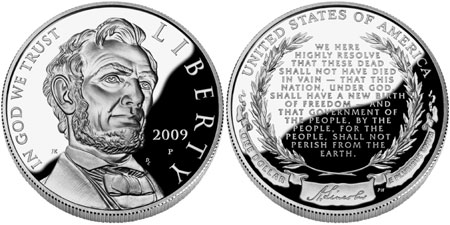 The silver dollar obverse features a portrait of Abraham Lincoln designed by Justin Kunz and sculpted by Don Everhart. The portrait, which is symbolic of Lincoln's strength and resolve, was inspired by Daniel Chester French's sculpture which resides at the Lincoln Memorial in Washington, DC. The obverse inscriptions read "In God We Trust", "Liberty", and the date "2009".
The reverse of the coin features the final 43 words of Lincoln's Gettysburg Address surrounded by a laurel wreath. The central inscription reads, "We here highly resolve that these dead shall not have died in vain — that this Nation, under God, shall have a new birth of freedom — and that government of the people, by the people, for the people, shall not perish from the earth." An inscription above reads "United States of America", and lettering on banners below read "One Dollar" and "E Pluribus Unum" with a reproduction of Lincoln's signature. The reverse was designed and sculpted by Phebe Hemphill.
The Abraham Lincoln Bicentennial Silver Dollar went on sale February 12, 2009, to coincide with the exact 200th anniversary of his birth. Proof and uncirculated versions of the coin were produced at the Philadelphia Mint with an overall maximum production of 500,000 coins. The US Mint sold out of the 450,000 coins allocated to individual coin sales after approximately one month.
Later in the year on October 15, 2009, the US Mint offered the Lincoln Coin and Chronicles Set (Buy on eBay). This special set contained the proof version of the 2009 Lincoln Silver Dollar, all four proof 2009 Lincoln Cents, a reproduction of the Gettysburg Address in Lincoln's handwriting, and a reproduction of a portrait of Abraham Lincoln. The sets were limited to 50,000 units and carried an ordering limit of one set per household. The sets were extremely popular with collectors and sold out after only a few days.
Coin Specifications
Designer: Justin Kunz (obverse), Phebe Hemphill (reverse)
Weight: 26.7300 g
Composition: 90% Silver (0.7736 ounces of silver)
Diameter: 38.1 mm
Maximum Authorized Mintage: 500,000
2009-P Uncirculated Abraham Lincoln Silver Dollar
Pre-Issue Price: $31.95
Regular Price: $33.95
Final Mintage: 125,000
2009-P Proof Abraham Lincoln Silver Dollar
Pre-Issue Price:$37.95
Regular Price: $41.95
Final Mintage: 375,000