The 1991-1995 World War II Half Dollar (Buy on eBay) was minted and issued in 1993 to commemorate the 50th anniversary of America's involvement in World War II. The commemorative coin program included three different coins, a clad half dollar, silver dollar, and $5 gold coin. While the program was expected to achieve popularity with a broad audience, the sales levels remained in line with other recent commemorative coin programs.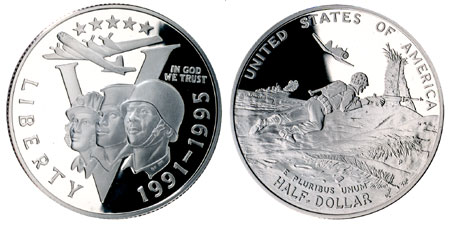 The obverse design of the half dollar depicts the faces of a solider, sailor, and airman looking upwards. A B-17 bomber flies overhead and a "V" for victory is in the background. The reverse depicts a battle scene from the Pacific Islands. The obverse was designed by George Klauba, and the reverse was designed by Bill J. Leftwich.
The obverse inscriptions include "Liberty", "In God We Trust", and the dual date "1991-1995" which represents the 50th anniversary of American involvement in the war from 1941-1945. The reverse inscriptions include "United States of America", "E Pluribus Unum", and the denomination "Half Dollar".
The 1993 World War II Half Dollar was issued in uncirculated or proof versions, both minted at Philadelphia. The half dollar was sold individually, or as part of a two-coin, three-coin, and six-coin set.
The half dollars were also included in two special products limited to a mintage of 50,000 units each. The Young Collector's Edition featured the uncirculated half dollar packaged with interesting facts about the war and coin collecting. The Coin and Victory Medal Set contained the uncirculated half dollar and a reproduction of the World War II Victory Medal.
Coin Specifications
Designer: George Klauba (obverse), Bill J. Leftwich (reverse)
Weight: 11.3400 g
Composition: 91.67% copper, 8.33% nickel
Diameter: 30.61 mm
Maximum Authorized Mintage: 2,000,000
1991-1995 (1993-P) Uncirculated World War II Half Dollar
Pre-Issue Price: $8.00
Regular Price: $9.00
Final Mintage: 197,072
1991-1995 (1993-P) Proof World War II Half Dollar
Pre-Issue Price: $9.00
Regular Price: $10.00
Final Mintage: 317,396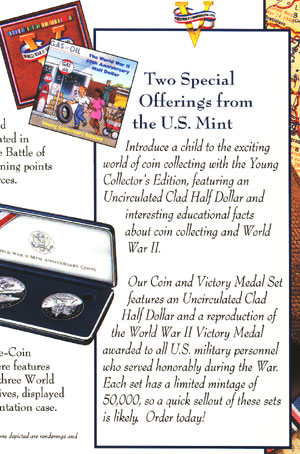 Other 1993 World War II Commemorative Coins
1993 World War II Silver Dollar
1993 World War II $5 Gold Coin