The 1986 Statue of Liberty Half Dollar (Buy on eBay) was one of three commemorative coins issued to celebrate the 100th anniversary of the dedication of the Statue of Liberty. The other two coins included a silver dollar and $5 gold piece. Notably, the half dollar was the first commemorative coin for this denomination struck in the copper nickel clad composition.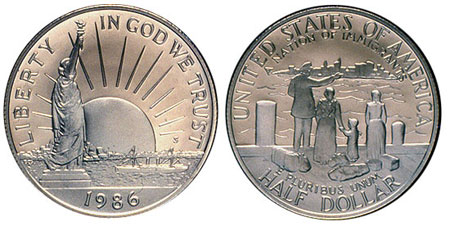 The obverse of the coin depicts a ship of immigrants entering New York Harbor. The skyline is circa 1913, with an image of the Statue of Liberty in the foreground and a rising sun in the background. The inscriptions include "Liberty", "In God We Trust", and the date "1986". The obverse was designed by Edgar Z. Steever IV.
The reverse of the coin features a family of immigrants witnessing a view of America from a pier or wharf at Ellis Island. The inscriptions read "United States of America", "A Nation of Immigrants", "E Pluribus Unum", and the denomination "Half Dollar". The reverse was designed by Sherl Joseph Winter.
The half dollar was struck in proof and uncirculated versions with the former struck at San Francisco and the later struck at Denver. The half dollar coins were sold individually or incorporated into Two Coin Sets, including the silver dollar, Three Coin Sets, including the silver dollar and $5 gold coin, or Six Coin Set, which included proof and uncirculated versions of each coin.
Since the coins did not contain precious metals content, the pricing was the lowest for the program at $5 or $6.50 for uncirculated and proof versions during a "pre-issue" period. The regular pricing was $6 or $7.50. The total mintage exceeded 7 million pieces.
Coin Specifications
Designer: Edgar Z. Steever IV (obverse), Sheryl Winter (reverse)
Weight: 11.3400 g
Composition: 91.67% copper, 8.33% nickel
Diameter: 30.61 mm
Maximum Authorized Mintage: 25,000,000
1986-D Uncirculated Statue of Liberty Half Dollar
Pre-Issue Price: $5.00
Regular Price: $6.00
Final Mintage: 928,008
1986-S Proof Statue of Liberty Half Dollar
Pre-Issue Price: $6.50
Regular Price: $7.50
Final Mintage: 6,925,627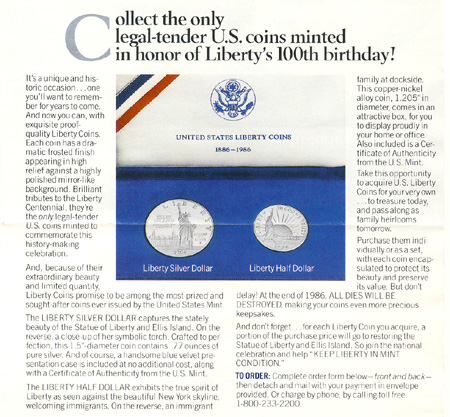 Other 1986 Statue of Liberty Commemorative Coins
1986 Statue of Liberty Silver Dollar
1986 Statue of Liberty $5 Gold Coin