The 1995 Olympic Gymnastics Silver Dollar (Buy on eBay) was issued as part of an ambitious range of commemorative coins issued for the XXVI Olympiad Summer Games held in Atlanta, Georgia. There were a total of 16 different coin designs issued from 1995 to 1996 to commemorate the event.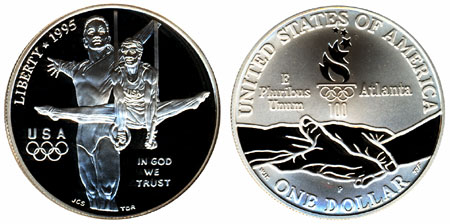 The obverse of the Gymnastics Silver Dollar was designed by James C. Sharpe. The obverse inscriptions include "Liberty" the date "1995", and "In God We Trust" with the USA Olympics logo.
The reverse of the coin features a design used in common for all of the 1995 Olympic Silver Dollars issued. This portrays the clasped hands of two athletes as designed by William Krawczewicz and modeled by T. James Ferrell. The inscriptions read "United States of America", "E Pluribus Unum", "Atlanta" and "One Dollar". Above the hands is a modern rendition of the Olympic torch.
The 1995 Gymnastics Silver Dollar was produced in uncirculated version at the Denver Mint and proof version at the Philadelphia Mint. Coins were sold individually or as a part of several different multi-coin sets. The maximum authorized mintage was 750,000 coins. Actual sales numbered 42,497 uncirculated coins and 182,676 proof coins. These relatively low sales figures eventually caused the coins to appreciate on the secondary market.
Coin Specifications
Designer: James C. Sharpe (obverse), William Krawczewicz (reverse)
Weight: 26.7300 g
Composition: 90% Silver (0.7736 ounces of silver)
Diameter: 38.1 mm
Maximum Authorized Mintage: 750,000
1995-D Uncirculated Gymnastics Silver Dollar
Pre-Issue Price: $27.95
Regular Price: $31.95
Final Mintage: 42,497
1995-P Proof Gymnastics Silver Dollar
Pre-Issue Price: $30.95
Regular Price: $34.95
Final Mintage: 182,676