The bimetallic 2000 Library of Congress $10 Coin (Buy on eBay) was to commemorate the 200th anniversary of the Library of Congress. Composed of an outer ring of gold and center of platinum, the coins represented the first bimetallic gold and platinum coins ever issued by the United States Mint.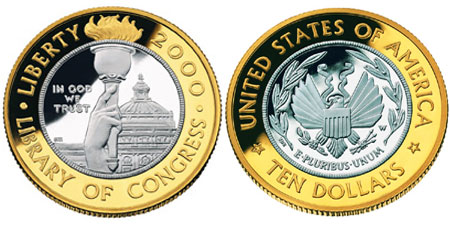 The obverse of the coins features the hand of Minerva raising the torch of learning. The Library of Congress Jefferson building dome is visible in the background. The inscriptions around the ring state "Liberty", "2000", and "Library of Congress". The motto "In God We Trust" appears in the platinum portion of the coin to the left of the hand and torch. The obverse was designed by John Mercanti.
The coin's reverse features the Seal of the Library of Congress surrounded by a laurel wreath. The outer ring carries the inscriptions "United States of America" and "Ten Dollars". The motto "E Pluribus Unum" appears in the platinum center below the eagle. The reverse was designed by Thomas D. Rogers.
The Library of Congress Gold and Platinum $10 Coins were authorized under Public Law 105-268, with a maximum authorized mintage of 200,000 coins. The US Mint initially offered the coins at pre-issue discount prices, after which regular pricing went into effect. The original sales period was April 24, 2000 to December 31, 2000. A surcharge added to the cost of each coin went to the Library of Congress Trust Fund Board for outreach programs.
While the coins were not particularly strong sellers when offered, they became popular on the secondary market due to the low mintages, precious metals content, and unique aspects of the coins. The uncirculated version sells for a high premium due to the small mintage of 7,261.
Coin Specifications
Designer: John Mercanti (obverse) Thomas D. Rodgers (reverse)
Weight: 16.2590 g
Composition: 48% gold, 48% platinum, 4% alloy
Maximum Authorized Mintage: 100,000
2000-W Uncirculated Library of Congress $10 Gold and Platinum Coin
Pre-Issue Price: $380.00
Regular Price: $405.00
Final Mintage: 7,261
2000-W Proof Library of Congress $10 Gold and Platinum Coin
Pre-Issue Price: $395.00
Regular Price: $425.00
Final Mintage: 27,445