The 1992 Columbus Half Dollar (Buy on eBay) was issued to mark the 500th anniversary of the discovery of America by Christopher Columbus. This coin was part of a program that also included silver dollars and gold coins.
The obverse design of the half dollar features a depiction of Christopher Columbus at landfall. Shown in the background is the Santa Maria and a smaller ship with the crew disembarking. Inscriptions include "Liberty" in widely spaced letters above and "In God We Trust", "1492" and "1892" below.
Pictured on the reverse of the coin are the thee ships of Columbus' voyage under sail, known as the Nina, Pinta, and Santa Maria. Inscriptions within an outer ring include "United States of America" and "Half Dollar". The inscriptions within the central portion are "500th Anniversary of Columbus Discovery" and "E Pluribus Unum. Both the obverse and reverse were designed by T. James Ferrell.
The maximum authorized mintage established by law for the 1992 Columbus Half Dollar was 6 million pieces. The proof version of the coin was struck at the San Francisco Mint and the uncirculated version was struck at the Denver Mint. Final sales were poor, reaching less than 10% of the maximum.
The lack of success for the program seems unusual given the historic importance of the event commemorated. Some have attributed the low sales to the two other commemorative programs issued during the same year and the lack of widespread publicity. The coins should have also carried a great deal of significance for coin collectors and the United States Mint. One hundred years ago, the 1892 Columbian Half Dollar was issued as the first U.S. commemorative coin.
Coin Specifications
Designer: T. James Farrell
Weight: 11.3400 g
Composition: 91.67% copper, 8.33% nickel
Diameter: 30.61 mm
Maximum Authorized Mintage: 6,000,000
1992-D Uncirculated Columbus Half Dollar
Pre-Issue Price: $6.50
Regular Price: $7.50
Final Mintage: 135,702
1992-S Proof Columbus Half Dollar
Pre-Issue Price: $8.50
Regular Price: $9.50
Final Mintage: 390,154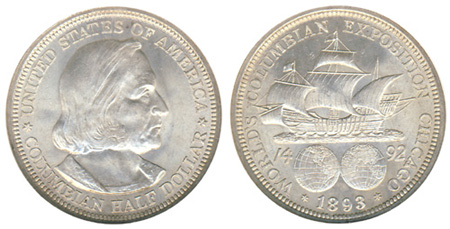 Other 1992 Columbus Commemorative Coins