The 1996 Smithsonian $5 Gold Coin (Buy on eBay) was issued for the 150th anniversary of the Smithsonian Institution. It had been established by Congress on August 10, 1846, funded by the will of scientist James Smithson. At one time, the Smithsonian held the National Numismatic Collection.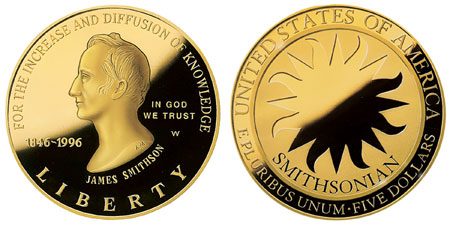 The obverse of the coin features a bust of James Smithson designed by Alfred Maletsky. The inscriptions include "For the Increase and Diffusion of Knowledge", "In God We Trust", the dual date "1846-1996", "James Smithson", and "Liberty".
The reverse of the coin features the Smithsonian's sunburst logo with the "Smithsonian" beneath. The design elements of the coin are raised and frosted with the sunburst recessed and mirrored for an interesting effect. Additional inscriptions around the outer portion of the coin include "United States of America", "E Pluribus Unum", and the denomination "Five Dollars". The reverse was designed by James T. Ferrell.
The 1996 Smithsonian 150th Anniversary $5 Gold Coin was offered in proof and uncirculated versions, both produced at the West Point Mint. The maximum authorized mintage for the coin was 100,000, but combined sales reached approximately 30% of this amount. Because of the resulting low mintages, the coins now sell at a significant premium. The coins were sold individually, or within two-coin and four-coin sets. Initially coins were available at pre-issue discount prices, after which regular prices went into effect. Surcharges from the sale of coins were paid to the Smithsonian Board of Regents.
Coin Specifications
Designer: Alfred Maletsky (obverse) James T. Ferrell (reverse)
Weight: 8.3590 g
Composition: 90% gold (0.242 ounces of gold)
Diameter: 21.6 mm
Maximum Authorized Mintage: 100,000
1996-W Uncirculated Smithsonian 150th Anniversary $5 Gold Coin
Pre-Issue Price: $180.00
Regular Price: $205.00
Final Mintage: 9,068
1996-W Proof Smithsonian 150th Anniversary $5 Gold Coin
Pre-Issue Price: $195.00
Regular Price: $225.00
Final Mintage: 21,772