August 26, 2020 marked the 100th anniversary of ratification of the 19th amendment to the constitution, which gave women the right to vote – the single largest extension of voting rights in American history that enfranchised 27 million American women. To reach that goal took endless hard work over the course of 70 years by people like Susan B. Anthony, Alice Paul and Harriet Tubman.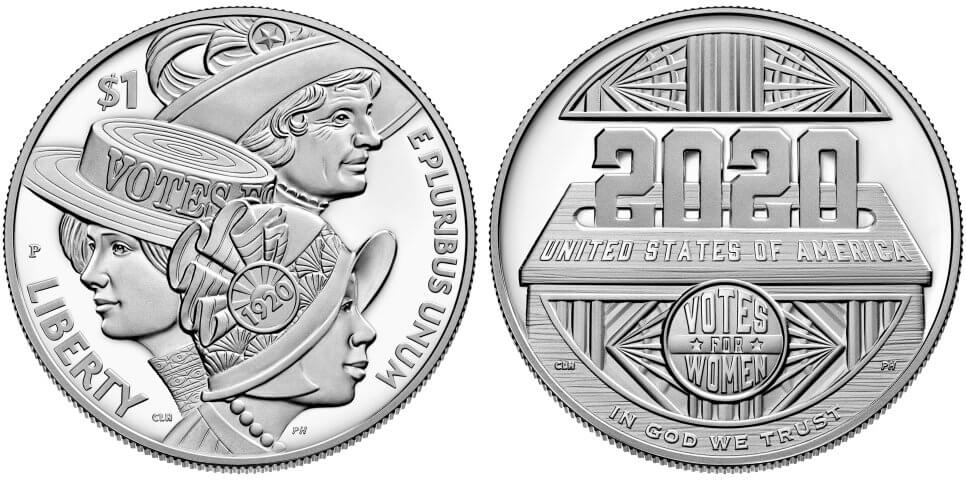 To mark this major milestone in our history Congress enacted Public Law 116-71, which authorized the production of up to 400,000 silver dollars in uncirculated (Buy on eBay) and Proof versions (Buy on eBay) bearing a common design.
The coin's obverse features three women from diverse backgrounds and generations each wearing a different hat to symbolize the many decades the suffrage movement spanned. The woman in front is wearing a cloche hat with an art deco pattern and a button with "2020".
The reverse shows "2020" being dropped into a ballot box with art deco artistic elements added to emphasize the period when this happened. "Votes for Women" is inscribed inside a circle on the box.
The design was created by Phebe Hemphill and sculpted by Christina Hess.
The coins went on sale on August 18 for $64 and $69 at the introductory price, which was increased on September 18 by $5 per coins.
A surcharge of $10 was added to the price of each coin that went to the Smithsonian Institution's American Women's History Initiative to assist its efforts to studying and establishing programs that examine the contribution of women to American history from a diverse perspective.
There was also a coin and medal set sold for $120 that included a Proof silver dollar and a medal unique to the set and limited to 10,000 units.
The obverse design features a child's hand reaching upward amid several adult women's hands and arms holding up a heavy weight—a "foundation" of stone. Women's suffrage was a struggle that continued across generations, with countless hands turned to the task.
The reverse design honors the Women's Suffrage Movement by juxtaposing the text of the 19th Amendment, ratified in 1920, with the flag of the United States.
Coin Specifications
Designer: Phebe Hemphill
Weight: 26.73 grams
Composition: 0.999 fine silver
Diameter: 38.1 mm (1.5 inches)
Maximum authorized mintage: 400,000
2020-P Uncirculated Women's Suffrage Centennial Silver Dollar
Pre-issue price: $64.00
Regular price: $69.00
Final mintage: 13,624
2020-P Proof Women's Suffrage Centennial Silver Dollar
Pre-issue price: $69.00
Regular price: $74.00
Final mintage: 43,476*
*Includes 9,996 sold in the 2020 Women's Suffrage Centennial coin and medal set