The United States Mint issued three commemorative coins to celebrate the 225th anniversary of the US Marshals Service. The clad half dollar issued for the program was stipulated under the authorizing legislation to contain images emblematic of the history of the Marshals Service and the role it played in a changing nation.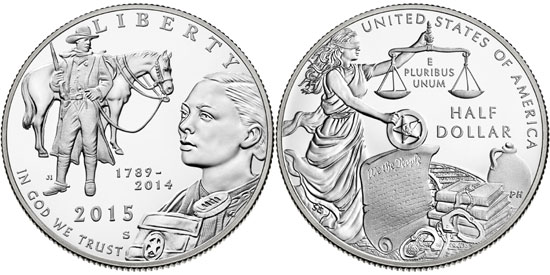 The obverse of the 2015 US Marshals Service Half Dollar (Buy on eBay) features the image of a US Marshal and a horse from the Old West contrasted with a modern female Marshal wearing tactical gear. The inscriptions include "Liberty", "In God We Trust", the anniversary dates "1789-2014", and the date of issue "2015". The obverse was designed by Joel Iskowitz and engraved by Michael Gaudioso.
The reverse design contains a broad collection of objects symbolizing well known areas of responsibility in the history of the US Marshals Service. Lady Justice is depicted holding a scale in her left hand and the US Marshals Service Star in her right. In the field below is a copy of the United States Constitution, a stack of school books, handcuffs, and a whiskey jug. These objects represent the Marshals ties to the Constitution, the Whiskey Rebellion, slavery and the legacy of equality, and the struggle between labor and capital. The reverse was designed by Susan Gamble and engraved by Phebe Hemphill.
The US Marshals Half Dollars were struck in both proof and uncirculated versions. The proof coins were produced at the San Francisco Mint and carried the "S" mint mark, while the uncirculated coins were struck at the Denver Mint and carried the "D" mint mark. A maximum authorized mintage of 750,000 was imposed across all product options.
Sales for the coins opened on January 29, 2015 with introductory pricing in effect until March 2, 2015. The half dollars were available individually or as part of a three coin proof set, together with the gold coin and silver dollar from the same program.
The last available sales report from the United States Mint indicated sales of 61,565 individual proof coins, 38,149 individual uncirculated coins, and 14,984 of the three coin proof sets.
Coin Specifications
Designer: Joel Iskowitz (obverse), Susan Gamble (reverse)
Weight: 11.3400 g
Composition: 91.67% copper, 8.33% nickel
Diameter: 30.61 mm
Maximum Authorized Mintage: 750,000
2015-D Uncirculated US Marshals Half Dollar
Pre-Issue Price: $13.95
Regular Price: $17.95
Final Mintage: 38,149
2015-S Proof US Marshals Half Dollar
Pre-Issue Price: $14.95
Regular Price: $18.95
Final Mintage: 76,549
Other 2015 US Marshals Service Commemorative Coins