The 1994 Capitol Bicentennial Silver Dollar (Buy on eBay) was issued to mark the 200th anniversary of the U.S. Capitol building in Washington DC. The Capitol Building had already been featured on some of the 1989 Congress Commemorative Coins and would appear again on the 2001 Capitol Visitor Center Commemorative Coins. This time around, the program included a lone silver dollar coin with a maximum authorized mintage of 500,000.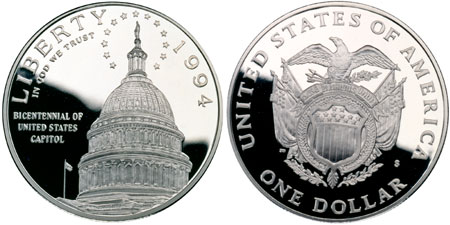 The obverse of the coin features the dome of the Capitol building with stars surrounding the statue Freedom, which rests atop the dome. The obverse was designed by William C. Cousins. The reverse of the coin features a motif based on the center area of a stained glass window near the grand staircases of the House and Senate. This motif includes a shield, an eagle, branches, and four flags. The reverse was designed by John Mercanti after the original stained glass window design.
The obverse inscriptions include "Liberty", "In God We Trust", "Bicentennial of the United States Capitol", and the date "1994". The reverse inscriptions include "United States of America" and the denomination "One Dollar". Within the motif is the additional motto "E Pluribus Unum".
The 1994 U.S. Capitol Silver Dollar was minted in proof version at the San Francisco Mint and uncirculated version at the Denver Mint. A maximum mintage of 500,000 was established across both versions. In addition to the individual options, a special Architectural History Edition was offered which included a proof coin and a 12-page booklet on the history of the building.
Coin Specifications
Designer: William Cousins, John Mercanti
Weight: 26.7300 g
Composition: 90% Silver (0.7736 ounces of silver)
Diameter: 38.1 mm
Maximum Authorized Mintage: 500,000
1994-D Uncirculated U.S. Capitol Bicentennial Silver Dollar
Pre-Issue Price: $32.00
Regular Price: $37.00
Final Mintage: 68,332
1994-S Proof U.S. Capitol Bicentennial Silver Dollar
Pre-Issue Price: $36.00
Regular Price: $40.00
Final Mintage: 279,579