The 2002 Olympics $5 Gold Coin (Buy on eBay) was to commemorate the 2002 Winter Olympic Games held in Salt Lake City, Utah. The gold coin was issued along with a silver dollar included in the same program.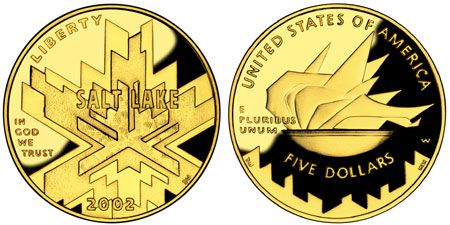 The obverse of the gold coin features the 2002 Salt Lake Olympic Winter Games Crystal Emblem superimposed against the "rhythm of the land." The arrangement is very angular and geometric, giving the coin unique features compared to other US commemorative coins. The inscriptions include "Liberty", "In God We Trust", "Salt Lake" and the date "2002".
The reverse portrays the Olympic flame within a cauldron. Similar to the obverse, the flame geometric and abstract. The inscriptions read "United States of America", "E Pluribus Unum" and "Five Dollars". Donna Weaver designed both the obverse and reverse.
The 2002 Salt Lake City Olympics Gold Coins were produced in proof and uncirculated versions at the West Point Mint. The coins were offered individually, as a two coin proof set, and as a complete four coin set. The maximum mintage for the gold coin was set at just 80,000, but sales still only managed to reach about the half way point. The coins now enjoy premiums due to the low mintage level.
The under performance of the coins was somewhat surprising, as Olympic issues usually draw an international collector base. To date, the US Mint has not issued another Olympic themed commemorative coin.

Coin Specifications
Designer: Donna Weaver
Weight: 8.3590 g
Composition: 90% gold (0.242 ounces of gold)
Diameter: 21.6 mm
Maximum Authorized Mintage: 80,000
2002-W Uncirculated Olympics $5 Gold Coin
Pre-Issue Price: $180.00
Regular Price: $205.00
Final Mintage: 10,585
2002-W Proof Olympics $5 Gold Coin
Pre-Issue Price: $195.00
Regular Price: $225.00
Final Mintage: 32,877