A commemorative coin program was authorized to recognize and celebrate the United States Army 5-Star Generals on the 132nd anniversary of the United States Army Command and General Staff College. The three coins included in the program featured Generals George Marshall, Douglas MacArthur, Dwight Eisenhower, Henry Arnold, and Omar Bradley.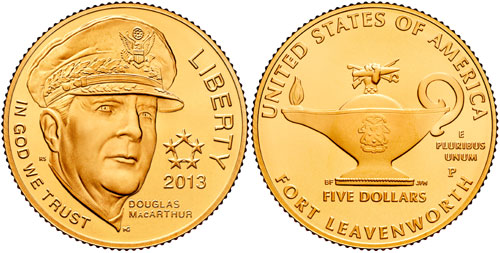 The obverse design of the 2013 5 Star Generals $5 Gold Coin (Buy on eBay) features a portrait of Douglas MacArthur with the 5-star insignia to the right of the portrait. The inscriptions include "Liberty", "In God We Trust", "Douglas MacArthur", and the date "2013". The obverse was designed by Ronald D. Sanders and sculpted by Michael Gaudioso.
The reverse design of the coin features an image of the Leavenworth Lamp to symbolize the Command and General Staff College. This was designed by Barbara Fox and sculpted by Joseph Menna. The inscriptions include "United States of America", "E Pluribus Unum", "Five Dollars", and "Fort Leveanworth".
The gold coins were available in proof version struck at the San Francisco Mint and uncirculated version struck at the Philadelphia Mint. Under the authorizing legislation, the maximum mintage was 100,000 pieces across both versions.
As in the previous year, the United States Mint offered the commemorative gold coins with variable pricing based on the average weekly market price of gold. For the start of sales on March 21, 2013, the proof version of the coin was priced at $485.50 and the uncirculated version was priced at $480.50. The price of the coins would vary throughout the course of the offering.
Sales for the gold coins progressed rather slowly during the year, continuing a trend of recent years. The US Mint announced an official sales end date of December 31, 2013. The uncirculated gold coin sold out unexpectedly one week earlier than this date. The issue would also turn out to have the second lowest mintage for any modern commemorative coin, leading to higher secondary market prices.
The 2013 5-Star Generals $5 Gold Coin uncirculated version had a final mintage of 5,667 pieces. The proof version of the coin ended up with a final mintage of 15,843 pieces.
Coin Specifications
Designer: Ronald D. Sanders (obverse), Barbara Fox (reverse engraver)
Weight: 8.3590 g
Composition: 90% gold (0.242 ounces of gold)
Diameter: 21.6 mm
Maximum Authorized Mintage: 100,000
2013-P Uncirculated 5 Star Generals $5 Gold Coin
Original Price: variable
Final Mintage: 5,667
2013-S Proof 5 Star Generals $5 Gold Coin
Original Price: variable
Final Mintage: 15,834
Other 2013 5-Star Generals Commemorative Coins
2013 5-Star Generals Half Dollar
2013 5-Star Generals Silver Dollar