The obverse design of the $5 gold coin that is part of the 2021 National Law Enforcement Memorial and Museum coin program features left-facing side portraits of two law enforcement officers in full uniform, including caps – one male and one female and both saluting. It was designed by Frank Morris and sculpted by Phebe Hemphill.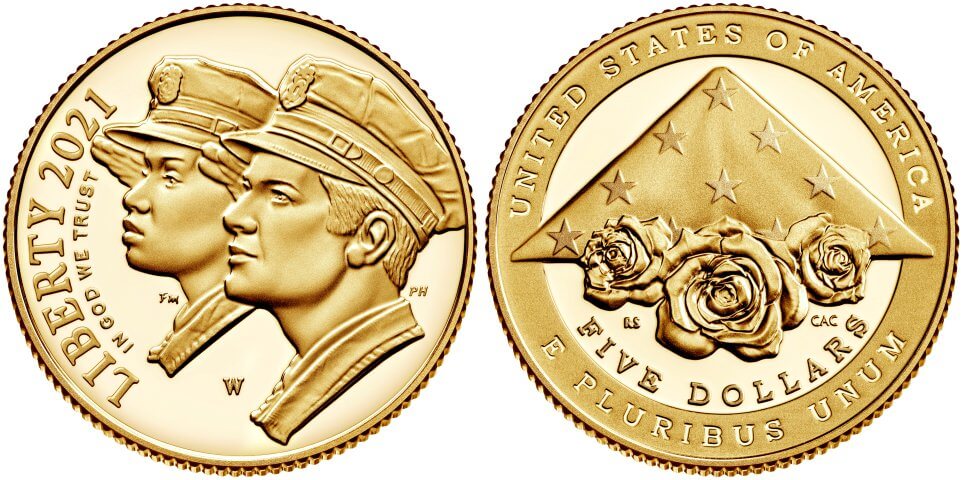 The reverse design, created by Ronald D. Sanders and sculpted by Craig Campbell, shows a folded American flag with three roses beneath it to symbolize remembrance for fallen law enforcement officers.
Both the uncirculated and Proof versions were struck at the West Point Mint, and each includes a $35 surcharge to help fund the National Law Enforcement Officers Memorial Fund's education and outreach programs. The museum, which was originally authorized by a law from 2000, opened in 2018.
The price of each coin varied by week. When the coin first went on sale on January 28, they were priced at $671.25 for the mint state piece and $681.25 for the Proof – the highest prices ever charged for $5 gold commemoratives. When the coins went off sale in December 2021, their final prices were $651.75 and $661.75.
The coins were sold on a pre-order basis with shipments not scheduled to begin before May 2021.
Sales of the uncirculated piece (Buy on eBay) set a new low, reaching only 1,753, while the Proof (Buy on eBay) – which was also offered in a three-coin Proof set with the silver dollar and half dollar – sold a total of 10,261 coins, including 5,867 individual coins and 4,394 in the sets.
Coin Specifications
Designer: Frank Morris (obverse), Ronald D. Sanders (reverse)
Weight: 8.3590 grams
Composition: 90% gold, 10% copper
Diameter: 21.6 mm (.850 inches)
Maximum mintage: 50,000
2019-W Uncirculated Law Enforcement Memorial and Museum $5 Gold coin:
Original price: varied
Final mintage: 1,753
2019-W Proof Law Enforcement Memorial and Museum $5 Gold coin:
Original price: varied
Final mintage: 10,261*
*Includes 4,394 sold in the 2021 Law Enforcement Memorial and Museum three-coin Proof set