The 2001 Capitol Visitor Center Silver Dollar (Buy on eBay) was issued as part of the commemorative coin program authorized for the proposed Capitol Visitor Center in Washington, DC. The program included three different coins issued in proof and uncirculated versions.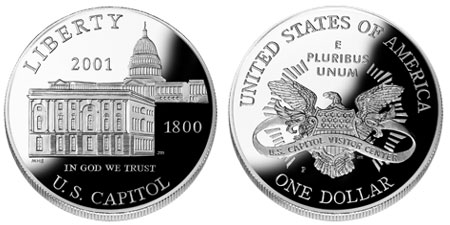 The obverse of the Capitol Visitor Center Silver Dollar presents an image of the original Capitol with the date "1800" and the later Capitol with the date "2001". Additional inscriptions include "Liberty", "In God We Trust", and "U.S. Capitol". The obverse was designed by Marika Somogyi.
The reverse features a heraldic eagle with shield and rays emanating around. A scroll across the center reads "U.S. Capitol Visitor Center". Additional inscriptions above and below read "United States of America", "E Pluribus Unum", and "One Dollar". The reverse was designed by John Mercanti.
Both the proof and uncirculated versions of the 2001 Capitol Visitor Center Silver Dollar were produced at the Philadelphia Mint. The US Mint offered the coins individually or as part of a three coin set, in standard packaging or a simple mailer at a slightly reduced price. The maximum authorized mintage was 500,000 coins, but the final tally would reach about 35% of that amount. Surcharges added to the cost of each coin in the program benefited the construction of the proposed visitor center under the U.S. Capitol's East Plaza.
Coin Specifications
Designer: Marika Somogyi (obverse), John Mercanti (reverse)
Weight: 26.7300 g
Composition: 90% Silver (0.7736 ounces of silver)
Diameter: 38.1 mm
Maximum Authorized Mintage: 500,000
2001-P Uncirculated Capitol Visitor Center Silver Dollar
Pre-Issue Price: $30.00 ($27.00 in mailer)
Regular Price: $32.00 ($29.00 in mailer)
Final Mintage: 35,380
2001-P Proof Capitol Visitor Center Silver Dollar
Pre-Issue Price:$33.00 ($29.00 in mailer)
Regular Price: $37.00 ($33.00 in mailer)
Final Mintage: 143,793