The design of the half dollar for the Law Enforcement Memorial and Museum program features a sheriff's star on the obverse that represents the law enforcement officers who serve communities. It was designed by John P. McGraw and sculpted by Renata Gordon.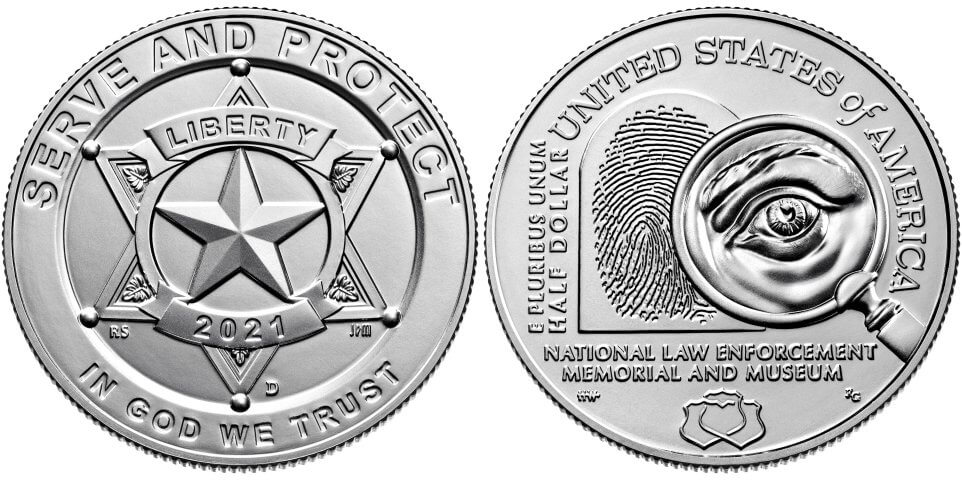 The reverse design, which is quite innovative, depicts a human eye under a magnifying glass looking at a fingerprint, which sculptor and former Citizens Coinage Advisory Committee member Heidi Wastweet designed to emphasize the human aspect of justice and the numerous people who work behind the scenes in law enforcement doing things like analyzing fingerprints and DNA samples. The emblem of the National Law Enforcement Museum appears at the bottom. This side was sculpted by Renata Gordon.
The uncirculated coin (Buy on eBay) was struck at the Denver Mint and sold 10,203 coins, while the Proof (Buy on eBay) was struck at the San Francisco Mint and sold 27,702 coins, which included 23,308 individual coins and 4,394 in the three-coin Proof set with the silver dollar and $5 gold coin.
The two versions of the coin were priced when they first went on sale on January 28, 2021 at $33 and $38 for the mint state and Proof pieces, which increased by $5 a month later. Each coin included a $5 surcharge.
Coin Specifications
Designer: Ronald Sanders (obverse), Heidi Wastweet (reverse)
Weight: 11.340 grams
Composition: 9.33% nickel, 90.67% copper
Diameter: 30.607 mm (1.205 inches)
Maximum authorized mintage: 750,000
2021-D Uncirculated National Law Enforcement Memorial and Museum Clad Half Dollar
Pre-issue price: $33.00
Regular price: $38.00
Final mintage: 10,203
2021-S Proof National Law Enforcement Memorial and Museum Clad Half Dollar
Pre-issue price: $35.00
Regular price: $40.00
Final mintage: 27,702*
*Includes 4,394 sold in the 3-coin National Law Enforcement Memorial and Museum Proof set