The 1993 Thomas Jefferson Silver Dollar (Buy on eBay) was actually issued in 1994 although the coins are dated 1993. The commemorative coins were issued to celebrate the 250th anniversary of Thomas Jefferson's birth. Only a silver dollar coin was issued with a maximum authorized mintage of 600,000 coins, which were all produced and sold.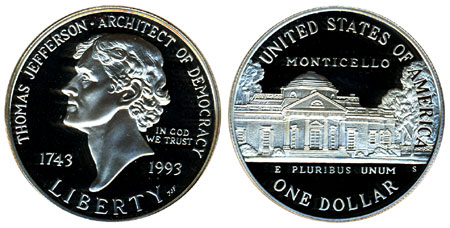 The obverse of the coin features a profile image of Thomas Jefferson, which was based on the medallion portrait of 1805 by Gilbert Stuart. The profile had been created in a classical manner to look like a coin or medal and was considered one of the best likenesses of the him. The obverse inscriptions include "Thomas Jefferson", "Architect of Democracy", "In God We Trust", "Liberty", and the dual date "1743" and "1993".
The reverse features a view of Thomas Jefferson's home Monticello. Both sides of the coin were designed by T. James Ferrell. The reverse inscriptions read "United States of America", "Monticello", "E Pluribus Unum", and the denomination "One Dollar".
The 1993 Thomas Jefferson Commemorative Silver Dollar was minted in proof at the San Francisco Mint and uncirculated at the Philadelphia Mint. Surcharges raised from the sale of coins went to the Thomas Jefferson Memorial Foundation to carry forth Jefferson's bold vision through education and the preservation of Monticello. A portion of the surcharges also went to the Corporation for Jefferson's Poplar Forest to preserve Jefferson's retreat home.
In addition to individual coin sales, the US Mint offered a special Coin & Currency Set to pay tribute to Jefferson's role in creating America's decimal coinage system. The special set contained the uncirculated silver dollar, a 1994 matte proof Jefferson Nickel, and a crisp 1976 $2 bill. This set sold 167,703 units and was priced at $34.00 during the pre-issue discount period and $39.00 during regular pricing.
Coin Specifications
Designer: T. James Ferrell
Weight: 26.7300 g
Composition: 90% Silver (0.7736 ounces of silver)
Diameter: 38.1 mm
Maximum Authorized Mintage: 600,000
1993-P Uncirculated Thomas Jefferson Silver Dollar
Pre-Issue Price: $27.00
Regular Price: $32.00
Final Mintage: 266,927
1993-S Proof Thomas Jefferson Silver Dollar
Pre-Issue Price: $31.00
Regular Price: $35.00
Final Mintage: 332,891