The 2008 Bald Eagle Half Dollar (Buy on eBay) represented the first commemorative half dollar issued since 2003. The coin was issued as part of the Bald Eagle Commemorative Coin Program, authorized to celebrate the recovery of the Bald Eagle species and the 35th anniversary of the Endangered Species Act. The two other coins issued for the program were a $5 gold coin and silver dollar.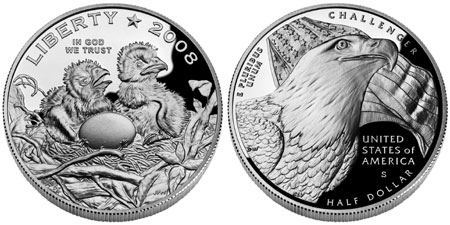 The obverse of the coin features two baby eaglets and an egg within a Bald Eagle nest. The inscriptions include "Liberty" and the date "2008" separated by a star with the motto "In God We Trust" below. The obverse was designed by Susan Gamble and sculpted by Joseph Menna.
The reverse of the half dollar features the Bald Eagle "Challenger" with an American flag in the background. "Challenger" is a non-releasable Bald Eagle who has been trained to free fly at major events during the National Anthem. The reverse inscriptions read "E Pluribus Unum", "Challenger", "United States of America", and "Half Dollar". The reverse was designed by Donna Weaver and sculpted by Charles Vickers.
The Bald Eagle Half Dollars were minted at the San Francisco Mint in proof and uncirculated versions. The coins were sold individually or included in two specially issued sets. The Bald Eagle Commemorative 3 Coin Proof Set, contained proof versions of the half dollar, silver dollar, and $5 gold coins. The Bald Eagle Commemorative Young Collector's Set contained the uncirculated version of the half dollar and educational information for younger collectors.
The maximum authorized mintage for the half dollar across all options was 750,000. All coins of the program included a surcharge payable to the American Eagle Foundation for the continuation of their work.
Coin Specifications
Designer: Susan Gamble (obverse), Donna Weaver (reverse)
Weight: 11.3400 g
Composition: 91.67% copper, 8.33% nickel
Diameter: 30.61 mm
Maximum Authorized Mintage: 750,000
2008-P Uncirculated Bald Eagle Half Dollar
Pre-Issue Price: $7.95
Regular Price: $8.95
Final Mintage: 120,180
2008-P Proof Bald Eagle Half Dollar
Pre-Issue Price: $9.95
Regular Price: $10.95
Final Mintage: 220,577
Other 2008 Bald Eagle Commemorative Coins