Public Law 113-291 authorized a three coin program to commemorate the 100th anniversary of the National Park Service, the agency responsible for the management of all U.S. National Parks, many national monuments, and other historical properties. The clad half dollar included in the program seeks to highlight the diversity and breadth of the areas managed by the agency.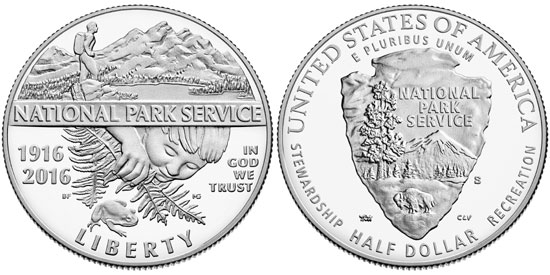 The obverse design of the 2016 National Park Service Half Dollar (Buy on eBay) features a split image of a hiker discovering the majesty of the wilderness and a small child discovering a frog hidden among ferns. The two scenes are divided by the words "National Park Service". Additional inscriptions include "Liberty", "In God We Trust", and the anniversary dates "1916" and "2016".
On the reverse of the coin is the National Park Service logo, which has been in use since 1951. Within the logo, the Sequoia tree represents vegetation, the bison represents wildlife, the mountains and water represent scenic and recreational aspects, and the arrowhead represents historical and archaeological aspects. The inscriptions surrounding the logo include "United States of America", "E Pluribus Unum", "Half Dollar", "Stewardship", and "Recreation".
The National Park Service Half Dollars were struck in proof format at the San Francisco Mint and in uncirculated format at the Denver Mint. The coins were offered for sale individually or within a three coin proof set.
Sales for the commemorative coin program officially opened on March 24, 2016. During an introductory period, the individual proofs were priced at $21.95 and the individual uncirculated coins were priced at $20.95. The three coin proof set was subject to variable pricing due to the inclusion of a gold coin.
The half dollars had a maximum authorized mintage of 750,000 pieces across all product options. Final sales would fall far short of this amount with the proof half dollar selling 40,256 individually and 14,589 within the three coin set. The uncirculated half dollar sold 21,016 through the individual option.
Coin Specifications
Designer: Barbara Fox(obverse), Michael Gaudioso (reverse)
Weight: 11.3400 g
Composition: 91.67% copper, 8.33% nickel
Diameter: 30.61 mm
Maximum Authorized Mintage: 750,000
2016-D Uncirculated National Park Service Half Dollar
Pre-Issue Price: $20.95
Regular Price: $24.95
Last Reported Sales: 14,589
2016-S Proof National Park Service Half Dollar
Pre-Issue Price: $21.95
Regular Price: $25.95
Final Mintage: 54,845
Other 2016 National Park Service Commemorative Coins
2016 National Park $5 Gold Coin
2016 National Park Silver Dollar