In 2018, a silver dollar was issued to commemorate the centennial of the United States' involvement in World War I. The coin was authorized by Public Law 113-112.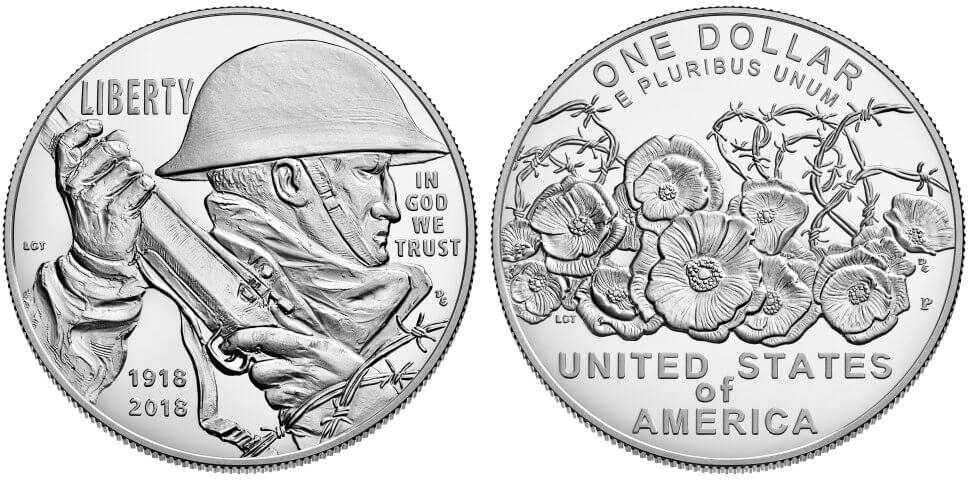 The U.S. became involved in the conflict on April 6, 1917, and first U.S. troops arrived in Europe, France specifically, in 1918. Over the course of the war, we sent more than four million men and women to serve in uniform during what was known as the Great War, including about two million who were deployed overseas. A total of 116,516 soldiers died there and another 200,000 were wounded.
The designs of both sides of this coin were selected using a design competition, and the winning designs were those of LeRoy Transfield – a Utah-based artist originally from New Zealand.
His obverse design called "Solder's Charge" features an almost stone-faced soldier gripping a rifle with barber wire in the lower right field, while his reverse design, "Poppies in the Wire," depicts poppies mixed with barbed wire.
Poppies have been a symbol of the deceased soldiers of this conflict since they were adopted by the American Legion in 1920 after being used in the famous poem "In Flanders Field" in 1915.
Both sides were sculpted by Don Everhart.
A $10 surcharge was included in the price of each coin that was to be paid to the United States Foundation for the Commemoration of the World Wars so that it could assist the World War I centennial Commission with its centennial commemoration of the war.
In addition to individually sold Uncirculated (Buy on eBay) and Proof (Buy on eBay) coins, Five Coin and Medal Sets (Buy on eBay) were also sold which included a silver medal for one of the branches of the military along with a Proof specimen of the silver dollar.
Sales began on January 17 for the two versions of this silver dollar, and the introductory period when the initial price was in effect ended on February 20.
The five coin and medal sets (one each for the U.S. Army, Navy, Marines, Air Force and Coast Guard) were limited to a total of 100,000 sets, priced at $99.95 each and sold based on orders received between January 17 and February 20 unless their limit of 20,000 for each set was reached before then.
Final sales were 22,340 for the uncirculated piece and 127,481 for the Proof, which included 62,495 from the sets and 64,982 individual coins.
Coin specifications
Designer: LeRoy Transfield
Weight: 26.73 grams
Composition: 90% silver (0.7736 ounces)
Diameter: 38.1 mm
Maximum Authorized Mintage: 350,000
2018-P Uncirculated World War I Centennial Silver Dollar
Pre-issue price: $48.95
Regular price: $53.95
Final Mintage: 22,340
2018-P Proof World War I Centennial Silver Dollar
Pre-issue price: $51.95
Regular price: $56.95
Final mintage: 127,481*
*Includes 62,495 coins sold in the five coin and medal sets for each branch of the military.