The 1994 World Cup $5 Gold Coin (Buy on eBay) was issued to celebrate the XV FIFA World Cup Soccer playoff games held in the United States. Also issued were a clad half dollar and silver dollar commemorative coin. There were high hopes for the program, which was expected to appeal to foreign buyers attending or viewing the games.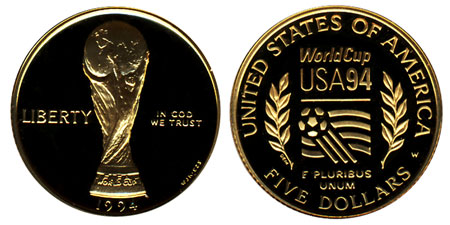 The obverse of the coin designed by William J. Krawzcewicz features the World Cup trophy. Promotional materials referred to this as "The Trophy Preserved in Gold." The reverse design features the 1994 World Cup logo bordered by laurel leaves, as designed by Dean McMullen. This same reverse design was used for all three commemorative coins in the program.
The obverse of the coin contains two inscriptions on either side of the trophy reading "Liberty" and "In God We Trust". The date "1994" appears beneath the trophy. The reverse of the coin includes "World Cup USA 94" incorporated into the central logo. Around the outer edge are the additional inscriptions "United States of America", "Five Dollars", and "E Pluribus Unum".
The 1994 World Cup Gold Coin was offered in uncirculated or proof version, both produced at the West Point Mint. A maximum mintage of 750,000 pieces was established. The coins were sold individually, or as part of a three-coin proof set, three-coin uncirculated set, and comprehensive six-coin set. The coins were initially offered at discounted prices before regular pricing went into effect.
Coin Specifications
Designer: William J. Krawcewicz (obverse), Dean McMullen (reverse)
Weight: 8.3590 g
Composition: 90% gold (0.242 ounces of gold)
Diameter: 21.6 mm
Maximum Authorized Mintage: 750,000
1994-W Uncirculated World Cup $5 Gold Coin
Pre-Issue Price: $170.00
Regular Price: $200.00
Final Mintage: 22,447
1994-W Proof World Cup $5 Gold Coin
Pre-Issue Price: $185.00
Regular Price: $220.00
Final Mintage: 89,614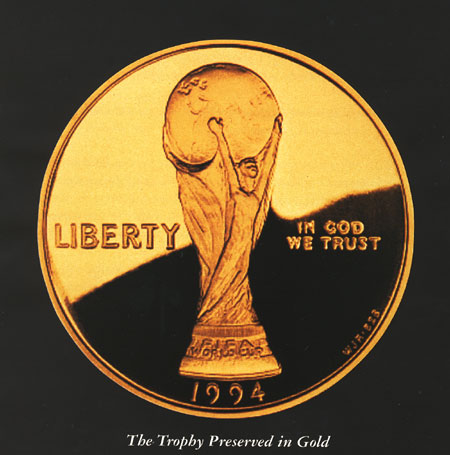 Other 1994 World Cup Commemorative Coins