The 1999 Dolley Madison Silver Dollar (Buy on eBay) represents the first time that a First Lady was depicted on a United States coin. Issued to mark the 150th anniversary of her death, this coin is popular with collectors to its beautiful design and unique aspects.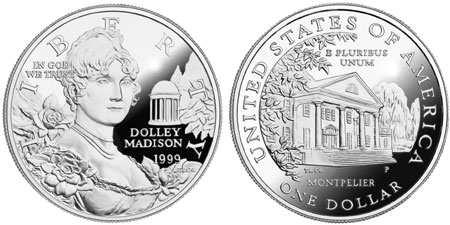 The designs for the Dolley Madison coin were created by Tiffany & Co., leading jewelers in the private sector. Their logotype "T & Co" appears on each side of the coin, representing another first in U.S. coinage history. The US Mint engravers T. James Ferrell and Thomas D. Rogers, Sr. are given credit for the models after the Tiffany & Co. designs.
The coin's obverse depicts Dolley Madison on the ground of the Montpelier estate. A bouquet of her favorite Cape Jasmine flowers and the Ice House Template, frame the image. The design was based on a portrait of Dolley Madison by Gilbert Stuart. Obverse inscriptions include "Liberty", "In God We Trust", "Dolley Madison", and the date "1999". The coin's reverse features a view of Montpelier with landscaping. The inscriptions include "United States of America", "Montpelier", and "One Dollar".
The Dolley Madison Silver Dollar was produced in proof and uncirculated formats at the Philadelphia Mint. The maximum authorized mintage of 500,000 coins was set across the individual options and two coin set. The coins proved extremely popular with collectors, selling more than 300,000 coins during the offering period from January 1 to December 31, 1999. This represented the highest sales level for a modern commemorative coin in several years.
Coin Specifications
Designer: Tiffany & Co.
Weight: 26.7300 g
Composition: 90% Silver (0.7736 ounces of silver)
Diameter: 38.1 mm
Maximum Authorized Mintage: 500,000
1999-P Uncirculated Dolley Madison Silver Dollar
Pre-Issue Price: $30.00
Regular Price: $32.00
Final Mintage: 89,104
1999-P Proof Dolley Madison Silver Dollar
Pre-Issue Price:$33.00
Regular Price: $37.00
Final Mintage: 224,403