The 2005 Marine Corps Silver Dollar (Buy on eBay) was issued to mark the 230th anniversary of the Marines. The design featuring an iconic image of the Marine Corps made the coins a huge success with collectors and the broader public.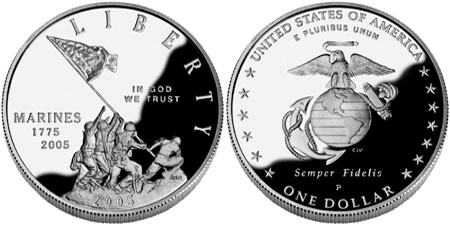 The obverse features the famous scene of Marines raising an American Flag over Iwo Jima that was photographed by Joe Rosenthanl. The inscriptions include "Liberty", "In God We Trust", "Marines", and the anniversary dates "1775" and "2005". The obverse was modeled by Norman E. Nemeth based on the photograph.
The reverse features the emblem of the Marine Corps, featuring an eagle, globe, and anchor. The inscriptions include "United States of America", "E Pluribus Unum", the Marine Corps motto "Semper Fidelis" (Always Faithful), and the denomination "One Dollar". The reverse was modeled by Charles Vickers.
Marine Corps Silver Dollars were minted in proof and uncirculated versions at the Philadelphia Mint. The commemorative coin program was originally authorized with a maximum mintage of 500,000 coins, but this was increased to 600,000 by authority of the Treasury Secretary. The program achieved sales representing the full mintage across the various product options. Surcharges added to the cost of each coin were used towards the construction of the Marine Corps Heritage Center in Quantico, Virginia.
The US Mint sold coins individually, or within two different sets. The Coin and Stamp Set, which was limited to 50,000 units, included the uncirculated version of the coin and an uncanceled 1945 three-cent Iwo Jima stamp. The 2005 American Legacy Collection included all of the proof coins from 2005 and proof versions of the two commemorative silver dollars issued for the year. This set was priced at $135 and limited to 100,000 units.
Coin Specifications
Designer: Norman E. Nemeth (obverse), Charles L. Vickers (reverse)
Weight: 26.7300 g
Composition: 90% Silver (0.7736 ounces of silver)
Diameter: 38.1 mm
Maximum Authorized Mintage: 600,000
2005-P Uncirculated Marines Silver Dollar
Pre-Issue Price: $33.00
Regular Price: $35.00
Final Mintage: 49,671
2005-P Proof Marines Silver Dollar
Pre-Issue Price:$35.00
Regular Price: $39.00
Final Mintage: 548,810