The 1988 Olympic $5 Gold Coin (Buy on eBay) was issued to commemorate the participation of the United States in the 1988 Olympic Games held in Seoul, Korea. This gold coin was issued in addition to a silver dollar.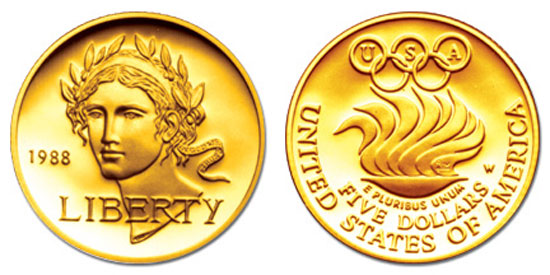 The obverse design of the gold coin by Elizabeth Jones is a favorite of many collectors. It depicts Nike, the goddess of Victory, in a crown of olive leaves. The word "Liberty" appears across the neckline, with the date "1988" in the left field. A ribbon intertwined with the crown carried the words "In God We Trust".
The reverse of the coin designed by Marcel Jovine features a stylized Olympic flame with the Olympic rings above containing "USA". Inscriptions below the image read "United States of America", "Five Dollars", and "E Pluribus Unum". Although there is great appreciation for the obverse design, some feel that the modernistic depiction on the reverse makes an incongruous combination.
The maximum authorized mintage for the 1988 Olympics Gold Coin was established by law at one million pieces. Both proof and uncirculated versions of the coin were struck at the West Point Mint and carried the "W" mint mark. The US Mint offered the coins at a discount during a pre-issue period before regular pricing went into effect. Two and four coin sets were offered incorporating the silver dollar coins.
Coin Specifications
Designer: Elizabeth Jones (obverse), Marcel Jovine (reverse)
Weight: 8.3590 g
Composition: 90% gold (0.242 ounces of gold)
Diameter: 21.6 mm
Maximum Authorized Mintage: 1,000,000
1988-W Uncirculated Olympic $5 Gold
Pre-Issue Price: $200.00
Regular Price: $225.00
Final Mintage: 62,913
1988-W Proof Olympic $5 Gold
Pre-Issue Price: $205.00
Regular Price: $235.00
Final Mintage: 281,465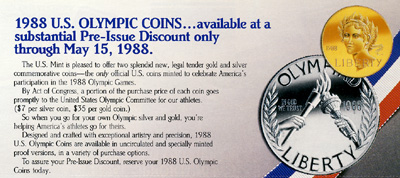 Other 1988 Olympic Commemorative Coins