The 2014 Civil Rights Act of 1964 Silver Dollar (Buy on eBay) was issued to honor the 50th anniversary of the enactment of the Civil Rights Act of 1964. The commemorative coin program had been authorized under Public Law 110-451, approved on December 2, 2008.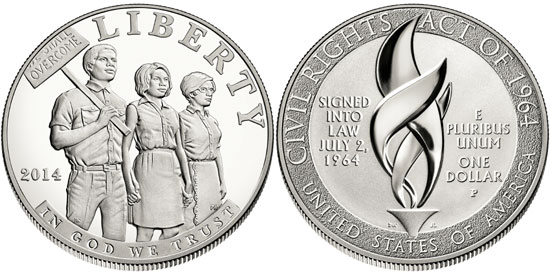 The authorizing legislation provided that the designs for the coins were to be emblematic of the enactment of the Civil Rights Act of 1964 and its contribution to civil rights in America. During the design review phase, there was some discussion by members of the Citizens Coinage Advisory Committee as to whether a depiction of a protest march accurately encapsulated the legislative design requirements. The group provided their support for a design depicting the March on Washington within a Liberty Bell silhouette and carrying reverberating bands of freedom.
Ultimately, the selected obverse design carried a depiction of three people holding hands at a civil rights march with a man holding a sign reading "We Shall Overcome". Additional inscriptions read "Liberty", "In God We Trust" and the date "2014". The obverse was designed by Justin Kunz and engraved by Phebe Hemphill.
The reverse design featured a depiction of three flames intertwined to symbolize the freedom of education, freedom to vote, and freedom to control one's own destiny. The design was inspired by a quote from Dr. Martin Luther King: "They get the fire hose. They fail to realize that water can only put out physical fire. But water can never drown the fire of freedom." Inscriptions on the reverse read "Civil Rights Act of 1964", "Signed into Law July 2, 1964", "E Pluribus Unum", "One Dollar", and "United States of America". The reverse was designed by Donna Weaver and engraved by Jim Licaretz.
Sales for the Civil Rights Act Silver Dollars opened on January 2, 2014. The proof version of the coin was priced at $49.95 and the uncirculated version was $44.95. Following the conclusion of an introductory period, prices were increased to $54.95 for the proof and $49.95 for the uncirculated version.
Throughout the year, sales for the coins progressed rather slowly, perhaps overshadowed by the immensely popular 2014 National Baseball Hall of Fame Commemorative Coin Program. The final mintages for the 2014 Civil Rights Silver Dollars reached 24,720 uncirculated coins and 61,992 proofs, from an overall maximum authorized mintage of 350,000 pieces.
Notably, the uncirculated 2014 Civil Rights Act Silver Dollar concluded sales at the lowest mintage for a commemorative silver dollar since 1996. On an overall basis, the coin has the seventh lowest mintage of any modern commemorative silver dollar.
Coin Specifications
Designer: Justin Kunz (obverse), Donna Weaver (reverse)
Weight: 26.7300 g
Composition: 90% Silver (0.7736 ounces of silver)
Diameter: 38.1 mm
Maximum Authorized Mintage: 350,000
2014-P Uncirculated Civil Rights Silver Dollar
Pre-Issue Price: $44.95
Regular Price: $49.95
Final Mintage: 24,720
2014-P Proof Civil Rights Silver Dollar
Pre-Issue Price: $49.95
Regular Price: $54.95
Final Mintage: 61,992